Aoun visits Jumblatt at his residence in Clemenceau, update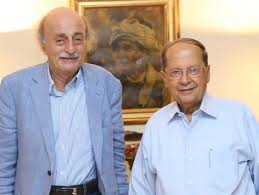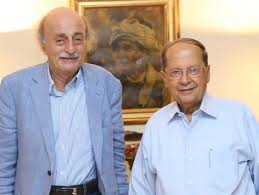 Free Patriotic Movement chief MP Michel Aoun visited Progressive Socialist Party leader MP Walid Jumblatt at his Beirut residence in Clemenceau on Wednesday,according to local media reports .
Jumblatt's son Taymour reportedly attended the meeting.
This visit comes just over a month after Jumblatt visited Aoun at his residence in Rabieh.
Lebanon has been without a president since May 25 when Michel Suleiman's six-year term ended amid a failure by parliament to elect a successor over differences on a compromise candidate.
The March 14 alliance has been backing the candidacy of Lebanese Forces chief Samir Geagea. But the Hezbollah-led March 8 camp has not officially announced the name of its candidate . Aoun has been saying that he would run for the presidency only if he is the consensus candidate, but there seems to be no consensus on him.
The visit by Aoun may be aimed at convincing Jumblatt , who wields a critical swing vote in the parliament to vote for him.
Update:
Aoun's logic
 Jumblatt said Wednesday after meeting with the Free Patriotic Movement leader in Clemenceau  that he agreed with  Aoun's logic in running for the presidency, but stressed that their meeting did not include  any discussions on the matter, according to local reports.
"I am convinced with Aoun's rationale behind his presidential candidacy, but we haven't spoken about the issue in today's meeting," Jumblatt said .
"There was an agreement on the majority of points," Jumblatt  said and added, "the coordination between us will continue."
Aoun also confirmed that the meeting did not include any dialogue about presidential elections but stressed that a common view was shared on most other matters of discussion.
Jumblatt in the past vetoed the candidacy of Aoun and Geagea and nominated his own candidate Henry Helou