British PM vows justice after 'act of pure evil'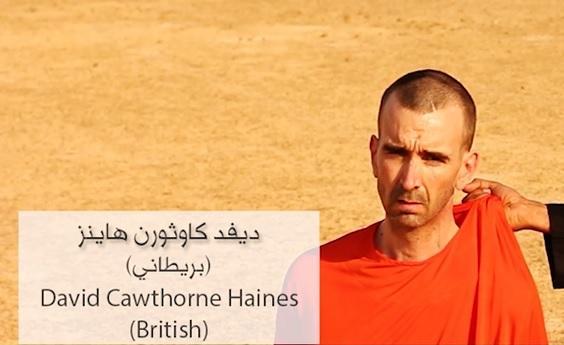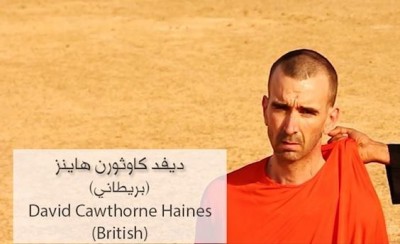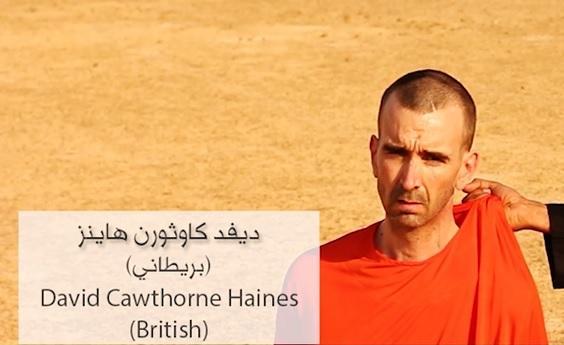 British Prime Minister David Cameron said this weekend that the apparent beheading of British aid worker David Haines by Islamic State militants was an "act of pure evil" and vowed to "hunt down these murderers and ensure they face justice."
Cameron made the comments late Saturday after a video emerged from ISIL or ISIS of a man resembling the 44-year-old Scot kneeling beside a masked militant who speaks in British-accented English. Britain's Foreign Office said Sunday it believes the video to be genuine.
The video, which goes on to show Haines' brutal slaying, is similar to earlier footage released by ISIL showing the killings of American journalists James Foley and Steven Sotloff.
Haines is the third westerner murdered by the Islamic extremist group under exceptionally barbaric circumstances and his death comes as Washington has stepped up a campaign to enlist more allies to combat the organization operating across large parts of Iraq and Syria.
The two-and-a-half minute video is titled "A Message to the Allies of America" and shows Haines delivering a direct message to Cameron.
"My name is Daivd Cawthorne Haines," the message starts. "I would like to declare that I hold you David Cameron entirely responsible for my execution. You entered voluntarily into a coalition with the United States against the Islamic State just as your predecessor Tony Blair did, following a trend against our British prime ministers who can't find the courage to say no to the Americans."
The man seen alongside Haines in the video says that the U.K. bears responsibility for partnering with the U.S. against ISIL.
"If you, Cameron, persist in fighting the Islamic State, then you like your master Obama will have the blood of your people on your hands," the executioner, who appears to be the same man who appeared in the Foley and Sotloff videos, says. That man has yet to be identified, a situation that has led to the British press referring to him as "Jihadi John."
The prime minister's office said Sunday that Cameron will chair an emergency meeting at Downing Street today to coordinate a response to the video, which also contains a threat to Alan Henning, another British national being held by ISIL.
Both London and Washington have insist that they will not negotiate with terrorist groups.
On Saturday, the White House released a statement condemning Haines' killing.
"We will work with the United Kingdom and a broad coalition of nations from the region and around the world to bring the perpetrators of this outrageous act to justice, and to degrade and destroy this threat to the people of our countries, the region and the world," the statement said.
President Obama this week said he is prepared to order airstrikes against ISIL and send in 475 military advisers.
Haines, a father of two who grew up in Perth, Scotland, but who settled in Croatia after working for several humanitarian agencies there and in Libya and South Sudan, was abducted last year in Syria.
His brother, Mike, released a statement Saturday mourning his family's loss.
"My David was like so very many of us, just another bloke. Born in 1970 to parents who loved us both, our childhood was centered around our family. Holidays in caravans and tents, days away as a family which we remember fondly," his brother said.
"David was most alive and enthusiastic in his humanitarian roles. His joy and anticipation for the work he went to do in Syria is for myself and family the most important element of this whole sad affair," Mike Haines said.
USA Today