Russia projects $100 bil capital outflow, flat GDP growth for 2014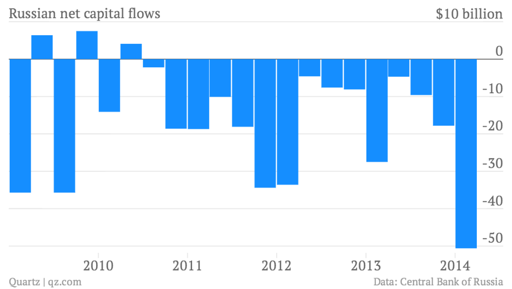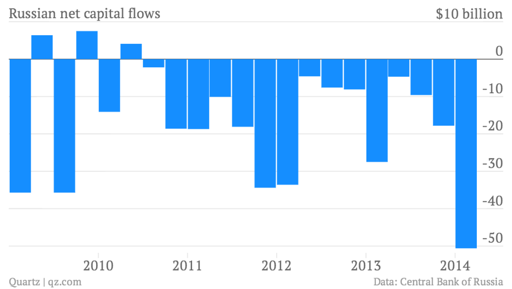 Capital outflow from Russia has been speeding up and may amount to up to 100 billion U.S. dollars this year, a senior central bank official said Friday.
"According to our estimations, (capital outflow) may be about 100 billion (dollars)," Ksenia Yudayeva, first deputy chief of the Central Bank of Russia, told reporters during an international banking forum in the resort city of Sochi.
The net capital outflow in the first half of the year amounted to 74.6 billion dollars, a sharp rise from the 33.7 billion dollars of the corresponding period in 2013, the Central Bank said in July. The total outflow in 2013 stood at 63 billion dollars.
Yudayeva said the trend could be softened by the Thursday decision of the European Central Bank (ECB) to cut its key interest rate from 0.15 percent to the record low of 0.05 percent.
"Obviously, the ECB policy of quantitative easing will result in capital inflow to the emerging economies, including Russian market," RIA Novosti news agency quoted Yudayeva as saying.
She added that the Central Bank's inflation forecast for 2014 has been mostly in line with the Economic Development Ministry's outlook. Both institutions project the inflation rate this year to reach 7 percent to 7.5 percent and gross domestic product (GDP) to grow 0.4 percent.
In 2013, Russia's GDP grew 1.3 percent, compared to 3.4 percent in 2012.
The Economic Development Ministry increased its inflation forecast from 5.5 percent to 7.5 percent in August.
The Central Bank attributed the inflation hike to the government's ban on a range of food imports in retaliation for Western sanctions against Russia over the Ukraine crisis.
Xinhua