A visit to Syria lands an Arab-Israeli MP 1 year in jail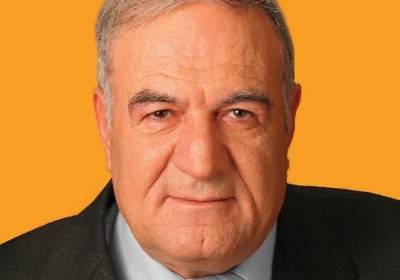 F
ormer Balad MK ( member of Knesset ) sentenced Thursday to 1 yr in prison on a conviction for meeting in 2007 with PFLP in Syria.
Said Nafa , a key member of the Druze community in Israel was also convicted of aiding Druze Israelis to get to Syria, where he met with Deputy Secretary- General Talal Naji of the Popular Front for the Liberation of Palestine (PFLP) a Palestinian militant group, according to Israeli newspaper the Jerusalem Post .
Nafa rejected the court's decision, especially accusing the state attorney's office of a political crusade and using him as a "scapegoat." He vowed to appeal to the Supreme Court, saying that he hoped and believed that "no one in the Supreme Court" would "support" what he viewed as a highly problematic legal precedent.
Nafa was convicted on June 4 by the Nazareth District Court, which also sentenced him.
His passport was immediately confiscated and the court issued an order blocking him from leaving the country, but denied the state's request that he post a significant bond to hold off having to report to prison until November 18.
The court said it had taken a middle path in light of Nafa's public service contributions and relatively clean record, but still needed to hold him to account for failing to explain why he met with the PFLP official as well as his not taking responsibility for his actions for an extended period, the report added.
Nafa had earlier been found innocent of a separate charge of meeting or trying to meet with Hamas leader Khaled Mashaal, though the court said its ruling on that charge was more about preserving the principle of reasonable doubt than it was an indication that the court believed Nafa was innocent, the daily added
Nafa's trial started in January 2012, following his indictment by the Northern District Attorney's Office in December 2011.
In July 2007, Nafa contacted the Interior Ministry to request travel permits to Syria for himself and a group of Druze Israelis, but the ministry refused the request, citing security concerns.
After that refusal, in September 2007 Nafa contacted a group of eight Druze clergymen and asked them to arrange for him to travel to Syria with a group of Druze religious leaders.
Nafa visited Syria between September 6 and 13, 2007.
While in Damascus, Nafa met with a man named Nihad Malkhem, who arranged a meeting between him and Naji of the PFLP.
The case against Nafa came after Knesset's House Committee denied Nafa's request in January 2010 for parliamentary immunity from prosecution, a move that allowed state prosecutors to file charges against him.