Berri says Aoun has to wait for debating his proposal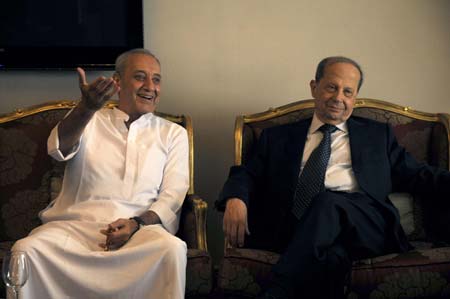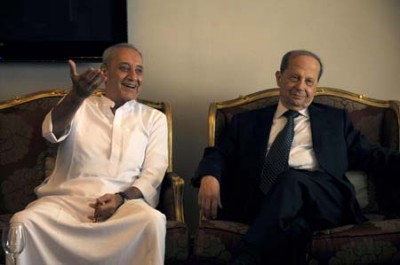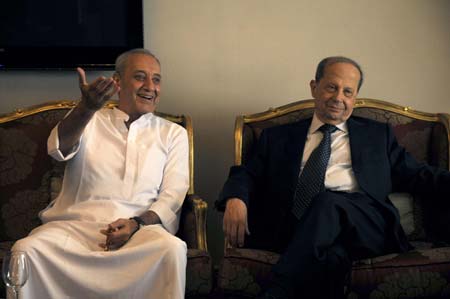 Lebanon Speaker Nabih Berri said that the amendment proposed by Michel Aoun's Change and Reform bloc, which calls for changing the constitution to allow the Lebanese people to directly elect the president ,cannot be debated in parliament until it is in ordinary session in late October .
" The Change and Reform draft amendment cannot be presented before October 21, the starting date for ordinary session in parliament," Berri was quoted as telling visitors according to an article published by As-Safir newspaper on Monday.
"Any constitutional amendment can only be debated by the parliament when it is in an ordinary session."
He also confirmed that he was holding closed discussions on the presidential elections with Progressive Socialist Party leader MP Walid Jumblatt, and that Aoun was "one of the shortlisted candidates that are " being considered without providing any further details.
The Change and Reform bloc MPs submitted last Thursday a draft law to the parliament to amend the constitution to allow the Lebanese people to directly elect the president, LBC television reported.
Change and Reform bloc leader MP Michel Aoun first proposed the idea in June to resolve the presidential deadlock.
Aoun said that his proposal lies in allowing only the Christians to decide who the candidates should be.
He proposed that the election of the head of state to be done in two stages, to avoid the same scenarios that parliamentary sessions are witnessing.
He suggested that in the first stage, Christian voters should choose two candidates, and in the second stage, all Lebanese citizens would vote to choose on of the two.
The Lebanese parliament has failed for ten times in a row to elect a president to succeed Michel Suleiman, whose term ended on May 25.
Each time it was unable to reach a quorum as March 8 parliamentarians affiliated with the Iranian backed Hezbollah militant group and Aoun's Change and Reform bloc did not attend most of the sessions.
Future Movement bloc MP Jamal Jarrah told LBCI on Friday:
" The Change and Reform bloc's proposal is one of the most dangerous proposals for Christians and Aoun has suggested it because he is allied with Hezbollah and AMAL. Should these alliances change, Muslims will then decide who should be the Lebanese president.
The Muslims form about 70 % of the Lebanese population