Shiite Gunmen Kill 73 at Iraq Mosque as Sectarian Tension Spikes
Gunmen from a Shiite militia opened fire in a Sunni mosque in a province of Iraq neighboring Baghdad, killing scores of worshipers and ratcheting up sectarian tension exacerbated by an insurgent offensive and political infighting.
The shooting in the village of Bani Wais in Diyala province killed at least 73 people, including the local imam, and wounded dozens, Basem al-Samarraei, deputy provincial governor, said by phone. The casualties also included women and children who were killed as they tried to save relatives from the gunfire, eyewitness Mahmoud al-Shimmary said in a telephone interview.
The attack comes amid a major offensive by the Sunni militant group Islamic State, a former off-shoot of al-Qaeda. Combined with political instability in Baghdad as a new government forms, the militants' advance has heightened concerns that Iraq may descend into the sectarian warfare that flared following the removal of autocrat Saddam Hussein after the 2003 U.S. invasion.
Some tribes among Iraq's Sunni minority have supported the Islamic State in its offensive that began in June with the capture of Mosul, saying they took up arms after being marginalized by pro-Shiite governments in the capital.
Today's strike took place after three roadside bombs targeted a Shiite political gathering 15 kilometers (9 miles) from the Musab bin Omair mosque, killing four bodyguards of local official Sadiq al-Zargoushi, Deputy Governor Samarraei said. Shiite militias then attacked the mosque, with four of them opening fire, he said. Security forces had been sent to the area.
New Government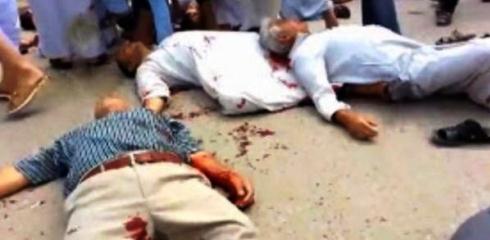 The mosque, about 120 kilometers northeast of Baghdad, is in an area under government control but close to territory held by Islamic State militants, the Associated Press reported.
Sunni national lawmaker Talal al-Zuba'ay said by phone that Iraqi security forces did nothing to stop what he called a "massacre" at the mosque.
Iraqi Prime Minister-designate Haidar al-Abadi is seeking to form a new, more inclusive government after his predecessor Nouri al-Maliki was forced from office amid accusations that his Shiite-dominated administration fueled sectarianism.
Appointing a new government is a start but it won't be enough without success in winning major Sunni participation in the administration and the security forces, Paul Salem, vice president of the Middle East Institute, said by telephone from Washington.
'Imminent Threat'
"The attempt to form a government, to slowly build trust, is a very difficult thing, and incidents like this make that more obvious," said Salem. "Putting Iraq back together is doable, but it's going to take a lot of time and a lot of political savvy."
U.S. Defense Secretary Chuck Hagel yesterday called the Islamic State an "imminent threat" to the U.S. that may take years to defeat.
The Islamist movement's beheading of American journalist James Foley, shown in a graphic video released this week, has drawn international condemnation of the radical group that has seized a swath of Syria and Iraq in its quest to create a Sunni caliphate.
Bloomberg