Islamic State video shows conversion of Yazidi men to Islam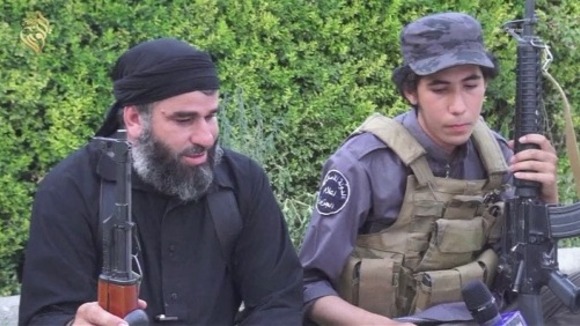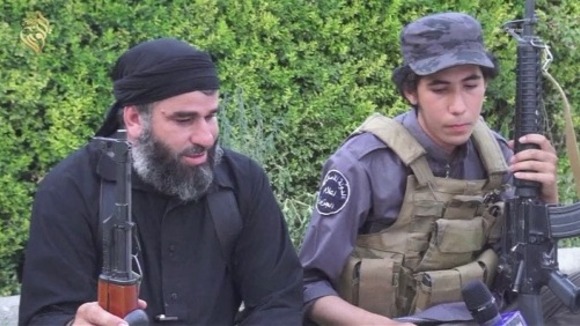 An Islamic State video has emerged purporting to show dozens of captured Yazidi people converting to Islam.
The footage emerged shortly after the group released a video showing one of its black-clad fighters beheading American journalist James Foley.
The latest film, titled "Hundreds of Yazidis convert to Islam", gives no indication of the bloodshed that prompted tens of thousands of people to flee.
In the video, two Islamic State fighters field questions in Arabic. One of the fighters is a bearded middle-aged man dressed in black with an AK-47 assault rifle.
The other is dressed in a crisp grey military uniform and camouflage cap.
"What has been said is the opposite of reality," the older man says.
He also says that Islamic State has provided the Yazidis with everything they need.
"Men, women and children have converted and I was with them and they are happy with their conversions," he says.
He adds: "We advise the Yazidis to come down from the mountain and convert."
This is a reference to Mount Sinjar, where thousands who feared death at the hands of the militants took refuge.
"If they stay on the mountain, they will die of starvation and thirst. This talk about aid from Western and crusader countries is all lies.
"If they convert, we will give them everything they need. They will live a happy life."
The video then shows dozens of Yazidis getting off a bus, walking past a truck mounted with an anti-aircraft weapon and hugging Islamic State militants.
IS fighters had previously threatened members of the ancient religious group with death if they failed to convert to Islam.
IS has been accused of killing hundreds of Yazidis since the militants moved into the area of northern Iraq where the community lives.
More than 400 men were reported to have died in the village of Kocho over two days and their families forced to move with IS militants to Tal Afar.
Yahoo News/ Sky News