Fatal helicopter crash in Iraq kills pilot, injures US reporter among others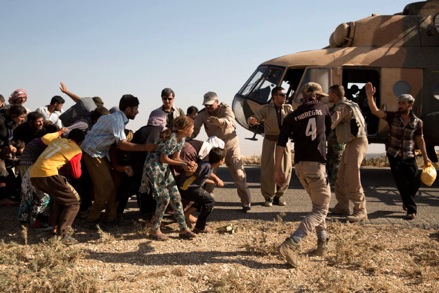 The fatal crash of a helicopter that was delivering aid to stranded Yazidis in Iraq and evacuating some of the refugees from the Sinjar mountains injured a New York Times correspondent, among others.
Alissa J. Rubin "apparently suffered a concussion, at least one broken wrist and possibly some broken ribs but was conscious," the New York Times said. Rubin serves as the New York Times' Paris bureau chief and was covering the situation in Iraq.
Rubin, 56, wrote for the Los Angeles Times for about a decade before being hired by the New York Times in late 2006. She spent several years in the L.A. Times' Washington bureau and also served as the paper's bureau chief in Vienna and Baghdad, as well as reporting from Afghanistan, Pakistan and other conflict areas.
Tuesday's crash killed the helicopter's pilot and injured several others, including photographer Adam Ferguson and Vian Dakhil, a Yazidi member of Iraq's parliament, the newspaper said. New York Times Executive Editor Dean Baquet said Rubin and Ferguson have been airlifted from the region for medical care.
"Alissa is a close friend and one of our most esteemed journalists," said Baquet, also formerly of the L.A. Times. "Our thoughts and prayers are with both Alissa and Adam."
Tens of thousands of Iraqi Yazidis — followers of an ancient faith linked to Zoroastrianism — took shelter in the Sinjar mountains for days after militants with the Islamic State group overran the northwest Iraq city of Sinjar, the heart of the Yazidis' insular community. Many are now returning to Iraq via a roundabout route through neighboring Syria. Kurdish fighters in Syria and Iraq are helping open the getaway path for Yazidis trapped on the barren peak.
Tens of thousands more are believed to remain on the mountain, many too feeble to move on or fearful of the Sunni militants below. Others are still in the Kurdish zone of Syria after leaving the mountain. An unknown number have been killed or are missing, community members say.
The possibility that the Yazidi people of Iraq face genocide was cited by President Obama on Thursday when he authorized airstrikes against the Islamist militants in Iraq and airdrops of humanitarian supplies for the besieged civilians.
LA Times