Turkey's PM Erdogan is proclaimed winner of presidential election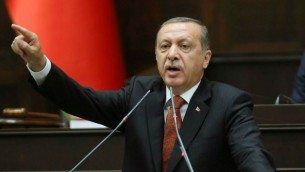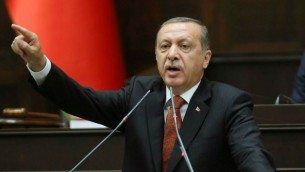 Prime Minister Recep Tayyip Erdogan, who has led Turkey for more than a decade, is set to become the country's first popularly elected president, cruising to what seemed to be an easy victory on Sunday that positioned him to be the dominant political figure here for at least five more years.
The news media declared the victory even though official results will not be published for several days. It came after the most tumultuous year of Mr. Erdogan's tenure in national politics, with the challenges of sweeping antigovernment protests and a corruption investigation focused on him and those around him.
Mr. Erdogan took 52 percent of the vote on Sunday, the highest percentage in his political career, according to provisional results published by the semiofficial Anadolu News Agency, which proclaimed him the winner. He has emerged from the past year not only as a survivor but as someone who, analysts predict, will look to expand his power from the office of the presidency.
Ekmeleddin Ihsanoglu, a former diplomat who was the candidate of the main secular and nationalist parties, received 38 percent, according to the unofficial results.
After voting in the Uskudar neighborhood in Istanbul, a confident Mr. Erdogan, 60, was quoted in news reports as saying: "I believe our nation had the chance to consider many things – about yesterday, today and tomorrow. They will make an important decision for Turkish democracy, for the future of country."
Turnout was relatively low, as many Turks assumed Mr. Erdogan would win. Even though the election felt like a coronation, a great deal is at stake for the Turkish political system. From the presidency — a post that is less powerful than that of prime minister, limited in part by the Constitution and in part by tradition — Mr. Erdogan is expected to maximize the powers of the office, arguing that he has a popular mandate to do so.
To lead from the presidency he would, in practice, need to retain the reins over his Islamist party, the Justice and Development Party, or A.K.P., despite being required by law to step down as its official head. By doing so, analysts say, he could then choose a malleable figure to be prime minister. He is also expected to push for legislation that would establish a presidential system, much like in the United States, a change that would upend the nature of Turkish politics.
While the Turkish presidency is often described as ceremonial, it has actual powers: the ability to veto legislation, appoint judges and call national security meetings. And analysts say Mr. Erdogan is likely to exercise powers that former presidents chose not to use, such as calling cabinet meetings.
Under Mr. Erdogan's watch, Turkey's military has been sidelined from its traditional role in politics through a series of controversial trials. The country has also become an economic power, and Mr. Erdogan's constituency of religious conservatives, a class that was kept from power under Turkey's old secular system, benefited greatly through higher incomes and better public services.
"This country needs a strong, fierce president who can secure the economy and fight foreign threats and terrorists," said Habiye Dorsay, 43, after voting in the Uskudar district. "No one other than Erdogan is capable for the job."
But this image of strength has come at a cost of heavily polarizing public opinion. A recent survey by Pew Research showed a nearly equal divide between those who support Mr. Erdogan and those who do not. Many liberals, nationalists and urban Turks believe Mr. Erdogan has become too authoritarian, and they object to what they see as the mingling of religion and politics under his leadership.
"He is power happy and arrogant, serving only half of the population that supports him, while the other half he deems irrelevant," said Eren Kurban, 32, who voted in the Istanbul neighborhood of Besiktas.
Mr. Erdogan is to be inaugurated as president on Aug. 28, replacing his longtime partner in Turkish Islamist politics, Abdullah Gul. Many speculate that it will ultimately be Mr. Gul who becomes prime minister, after national elections next year.
Past presidents, like Turgut Ozal and Suleyman Demirel, who ascended to the presidential palace after serving as prime minister, underestimated the autonomy and resilience of their parties and became disgruntled as they lost control of governance. If Mr. Erdogan is able to orchestrate the appointment of a compliant interim prime minister, he is expected to influence decisions and continue to run the government until he fulfills his long-term ambition of replacing the parliamentary system with a presidential one.
Having served three terms as prime minister, Mr. Erdogan is prevented from seeking a fourth by the internal rules of his party.
"Members of the A.K.P. fear and respect Erdogan at the same time," said Soner Cagaptay, director of the Turkish Research Program at the Washington Institute for Near East Policy. "It won't be hard for him to pull rank over the party, even when he resigns from the A.K.P."
NY Times