Israel strikes Gaza after rockets were fired and talks to extend truce failed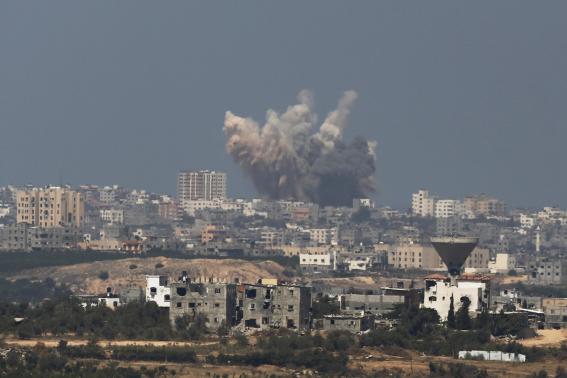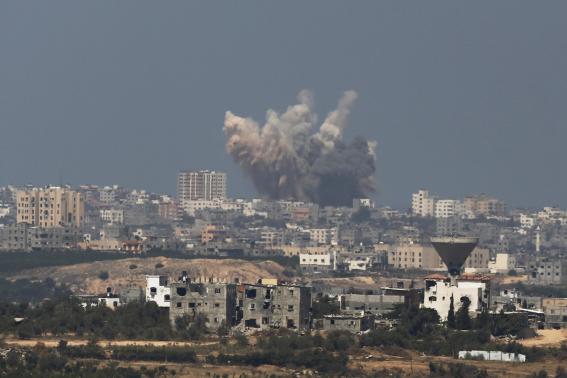 Israel said it launched air strikes across the Gaza Strip on Friday in response to Palestinian rockets fired after Egyptian-mediated talks failed to extend a 72-hour truce in the month-long war.
As rocket-warning sirens sounded in southern Israel, the military said Hamas had fired at least 18 rockets from Gaza and Israel's "Iron Dome" interceptor system brought down two. No injuries or damage were reported. Gaza militants said they had fired 10 rockets on Friday.
After a huge explosion in Gaza City, apparently from an air raid, a military spokesman said Israel had responded to Hamas rocket fire by launching air strikes at "terror sites" across the Gaza Strip.
"We will continue to strike Hamas, its infrastructure, its operatives, and restore security for the State of Israel," Lieutenant-Colonel Peter Lerner said in a statement.
Heavy civilian casualties and destruction during Israel's campaign against militants in packed residential areas of the Gaza Strip have raised international alarm over the past month, but efforts to extend a ceasefire at talks in Cairo failed.
Israel had earlier said it was ready to agree to an extension as Egyptian go-betweens pursued negotiations with Israeli and Palestinian delegates.
A Hamas spokesman said Palestinian factions had not agreed to extend the truce, but would continue negotiations in Cairo.
Islamic Jihad blamed Israel for rejecting Palestinian demands, adding Israel "will not get through politics what it had failed to get on the battlefield".
The Palestinians had wanted Israel to agree in principle to demands which include a lifting of the blockade on the Gaza Strip, the release of prisoners and the opening of a sea port.
The armed wing of Hamas released a statement late on Thursday warning Palestinian negotiators not to agree to an extension unless Israel offered concessions.
NAVAL BLOCKADE
Israel has shown little interest in easing its naval blockade of Gaza and controls on overland traffic and airspace, suspecting Hamas could restock with weapons from abroad.
Israel's Strategic Affairs Minister Yuval Steinitz, speaking on Army Radio, raised the prospect of Israel relaunching a ground operation it halted on Tuesday and "taking control of the Gaza Strip in order to topple the Hamas regime".
But Prime Minister Benjamin Netanyahu has shown little inclination to do so.
In Gaza, some families who had returned to their homes in the northern town of Beit Hanoun during the ceasefire gathered their belongings and headed back to the United Nations shelters where they had sought refuge over the past few weeks.
Beit Hanoun resident Yamen Mahmoud, a 35-year-old father of four, said: "Today I am fleeing again, back to displacement. I am not against resistance but we need to know what to do. Is it war or peace?"
Gaza officials say the war has killed 1,875 Palestinians, most of them civilians. Hamas said on Thursday it had executed an unspecified number of Palestinians as Israeli spies.
Israel says 64 of its soldiers and three civilians have died in the fighting that began on July 8, after a surge in Palestinian rocket salvoes into Israel.
It expanded its air and naval bombardment of the Gaza Strip into a ground offensive on July 17, and pulled its infantry and armor out of the enclave on Tuesday after saying it had destroyed more than 30 infiltration tunnels dug by militants.
ALIENATE EGYPT
Hamas's refusal to extend the ceasefire could further alienate Egypt, whose government has been hostile to the group and which ultimately controls Gaza's main gateway to the world, the Rafah border crossing.
The announcement that the truce would not be extended came a few minutes after it expired at 0500 GMT (1 a.m. EDT) after lengthy talks that continued in Cairo through the night.
Palestinian negotiators from factions including Hamas, Islamic Jihad and Fatah left their luxury hotel for talks with Egyptian intelligence at 9.30 p.m. on Thursday, returning more than six and a half hours later looking subdued and saying no deal had yet been reached.
Palestinian officials paced the lobby, speaking on their phones and holding meetings, trying to reach a final decision as the deadline approached.
A source at Cairo airport said the Israeli delegation left shortly before the truce expired. He said the Israeli visit had lasted nine hours, longer than the previous two visits this week, as Egyptian mediators pushed the two sides to renew the truce. There was no immediate comment from Egypt.
Reuters