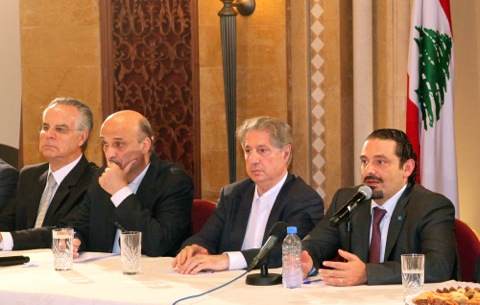 Former  Lebanese Prime Minister Saad al-Hariri, back in Lebanon after over three years in self-imposed exile, on Friday called on lawmakers to elect a president to help ensure the stability of the country.
"Electing the president is everyone's responsibility. It is not true that it is a responsibility borne by Saad al-Hairi alone," Hariri told a meeting of officials from his political bloc, according to remarks published by his office in Arabic. It was his first detailed statement since returning.
Hariri criticized Shi'ite movement Hezbollah's military intervention in Syria, saying it would "only bring harm to Lebanon"  and"  the biggest harm was done to the Shiite sect through the wave of explosions that hit Dahiyeh, the South, and the Beqaa." but added that if Hezbollah had made mistakes it did not mean that "we respond to them with similar mistakes."
Describing the series of suicide and car bombings as a reaction to the party's role in Syria, Hariri said: " Hezbollah has severely harmed intra-Muslim ties and placed the Army and security forces at risk of attacks from terrorist groups."
"We saw how the Army is paying a hefty price as a result of Hezbollah's insistence on imposing a status quo none of the Lebanese agreed to."
"It is on this basis that I began meetings today with PM  Tammam Salam and security and military leaders… because the danger of terrorism is serious and crucial, and any lenience in fighting this danger could cause enough strife to end Lebanon."
Regarding the Saudi grant  of one Billion US dollars to the Lebanese Armed Forces, Hariri underscored that "the main purpose of this grant is to support the army, security forces, and the state."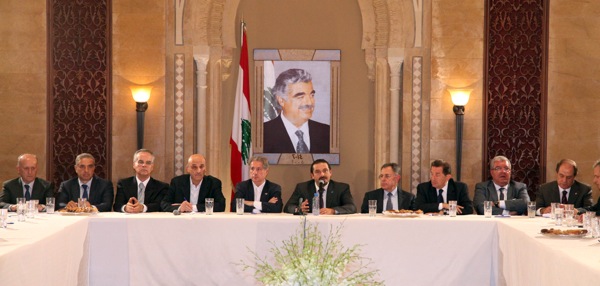 "Primarily  it is to contribute to stabilizing Lebanon and helping it fight all attempts to vandalize coexistence among Lebanese."
Asked  earlier today  by journalists whether he had received guarantees for his safety, Hariri  said: "God protects us all."
Reuters
This error message is only visible to WordPress admins
Error: No connected account.
Please go to the Instagram Feed settings page to connect an account.