Militants withdrew from Arsal but took Lebanese captive soldiers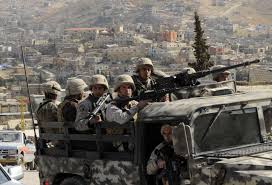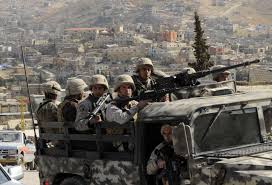 Islamist militants withdrawing from the Lebanese border town of Arsal took captive Lebanese soldiers with them as they crossed into the border zone with Syria, Reuters reported militant and Lebanese security sources as saying on Thursday.
The army has said 22 of its soldiers are missing. Before leaving Arsal, the militants freed seven Lebanese soldiers on Thursday after a truce deal, Agence France-Presse reported the official National News Agency as saying.
The NNA said the seven were freed in an army operation, although there was no immediate confirmation from the military.
The releases came after a delegation of Sunni clerics said it had negotiated a deal under which militants who have been fighting the army in the area since Saturday would withdraw and turn over prisoners.
On Wednesday night, chief negotiator Sheikh Hossam al-Ghali said the militants, believed to be from several jihadist groups operating in Syria, had begun retreating.
"Fighters in Arsal have started to head across the Lebanese border" into Syria, Ghali said.
He said a ceasefire would be in place until 7:00 pm on Thursday (1600 GMT), following an agreement between Lebanon's prime minister, the army and other parties.
Another negotiator and fellow cleric, Samih Ezzedine, said the militants had agreed "to leave Arsal completely within 24 hours".
"They asked not to be shot at as they withdraw, and if that happens the whole agreement will be in jeopardy," he said.
"All the prisoners are alive and despite difficult negotiations we have clear and positive promises they will be released. I hope that will happen on Thursday," Ezzedine said.
Army assessing situation
Meanwhile, the Lebanese army was assessing on Thursday whether the militants had withdrawn overnight as part of the agreement, a security source told Reuters.
The source said there was no fighting on Thursday morning in the border town of Arsal but that the army had killed 14 Islamist militants during fighting on Wednesday evening, responding to a breach of the new extended 24-hour ceasefire.
He said three policemen, members of the Internal Security Forces, who were captured earlier this week by the gunmen were found in a hospital on the southern edges of Arsal.
"The army is investigating whether the gunmen have all withdrawn from Arsal in accordance with the agreement between the government and the Muslim Clerics Association," he said on condition of anonymity. He added that the army has not yet entered Arsal.
Arsal is the first major incursion into Lebanon by hardline Sunni militants – leading players in Sunni-Shi'ite violence unfolding across the Levant – which threatens the stability of Lebanon by inflaming its own sectarian tensions.
Al Arabiya