March 14 proposes a plan to rescue Lebanon from current crisis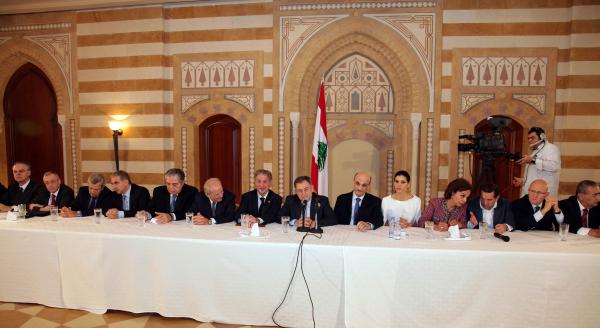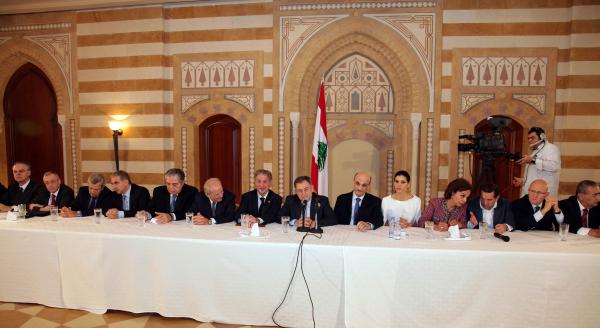 The March 14 alliance proposed on Tuesday following its meeting in the Central house in Beirut a "rescue plan" that addressed the crisis Lebanon and Arsal are going through to immunize Lebanon against dangers.
Here is a summary of the plan that was announced by former PM and Future bloc leader MP Fouad Siniora.
* Electing a new president as soon as possible .
* Release of all detained Lebanese Armed Forces and security forces members
* Withdrawal of all non-Lebanese armed men from Arsal and its surrounding area
* The government to formally ask the United Nations Security Council to expand the measures allowed by UN Secure Resolution 1701 to include having UN emergency forces assist the LAF along the Lebanese-Syrian border.
*The government to "set up disciplined and organized shelters along the Lebanese-Syrian border in order to enable the Lebanese state to organize and control the presence of refugees.
Siniora said that "March 14 will organize a communication campaign with all parties in Lebanon and abroad to ensure the success of this rescue plan."
The March 14 alliance expressed its appreciation of "the repudiation and denunciation of the brutal attack on Lebanon and Arsal voiced by factions of the Syrian opposition."
The alliance renewed the demand " to be careful from the danger of the involvement of armed Syrians in an armed conflict on Lebanese territory with military and security institutions."
The alliance held Hezbollah responsible for the developments in Arsal :
"We hold Hezbollah and those allied to it largely responsible for the developments in Arsal ."
The statement added : " Hezbollah took part in the fighting in Syria without the consent of the Lebanese state and people"
Fighting between Islamic militants and the LAF entered its fourth day in the Beqaa town of Arsal, leaving at least 14 soldiers dead in the clashes that erupted Saturday after the arrest of Al-Nusra Front commander Imad Jumaa.
The clashes in Arsal come amid renewed fighting in the Qalamoun border region, where Hezbollah fighters and Syrian regime forces are locked in a fierce battle with rebels.