Is Jumblatt preparing for another U-Turn ?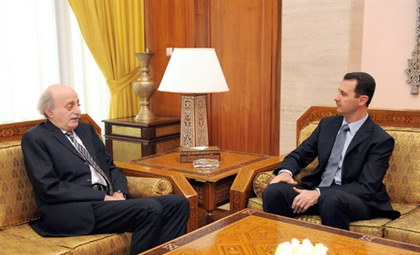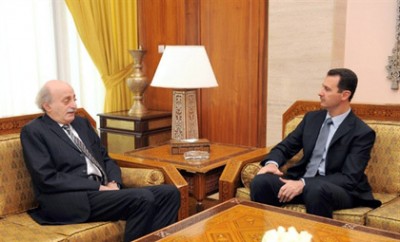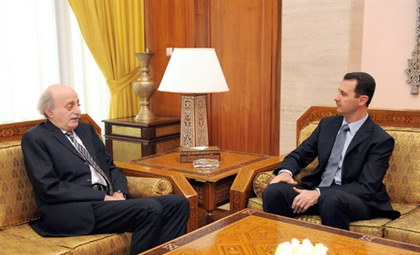 Ever since his meeting with Hezbollah chief Sayyed Hassan Nasrallah , Progressive Socialist Party leader Walid Jumblatt has been duplicating the moves he made prior to his visit to Syria in 2010.
The first thing he did after his last week meeting with Nastrallah was defending Hezbollah's role in Syria even though he was an outspoken critic of that role and blamed it for Lebanon's violence .
In his press conference during a tour in Deir Qoubel and Choueifat on Tuesday Jumblatt urged the Lebanese to stop saying that Hezbollah's involvement in Syria brought terrorism to Lebanon.
Jumbaltt said that the nation is facing the danger of terrorism from armed militants who are attacking the LAF.
"Saying that Hezbollah brought terrorism to Lebanon with its involvement in Syria is incorrect. What is needed is dialogue among all factions to safeguard Lebanon from this obscurantist thought which has come from ignorance." Hezbollah's mouthpiece al Manar quoted him as saying.
He urged cooperation between former PM Saad Hariri, Speaker Nabih Berri, and Nasrallah.
His second move came today with a visit to Rabieh to meet with Free Patriotic Movement chief Michel Aoun , reportedly to discuss the presidential deadlock and the importance of backing the Lebanese army.
Jumblatt left Rabieh without addressing reporters but the two parties later issued a joint statement describing their meeting as "frank and friendly."
The talks "focused on several issues, mainly Lebanon's battle with terrorism," it said.
Aoun and Jumblatt "stressed unconditional and absolute support to the Lebanese army," and discussed ways to confront the growing challenges, including the activation of constitutional institutions and the speedy election of a president.
The two lawmakers also discussed the importance of keeping contacts between the PSP and the FPM to bring the Lebanese closer, the statement said.
This visit came after a report in As Safer on Tuesday which stated that Nasrallah advised the PSP chief to hold talks with the FPM chief.
"We have a president … He is Aoun and we continue to back him," As Safir quoted Nasrallah as telling Jumblatt.
"You shouldn't talk only to me. Go see Aoun and agree with him," Nasrallah reportedly said.
Just like in 2010 , Jumblatt is now expected to make the complete round of talks with Hezbollah's allies and at the end of these talks he is expected to get the green light to pay a visit to Basher al Assad in Syria. This will complete the U- turn the mercurial Jumblatt is expected to make .
This is a Jumblatt typical. Few weeks ago he was a harsh critic of Assad and slammed Hezbollah's military involvement in the war next door, calling it a historic and moral "mistake" toward the Syrian people.
" Hezbollah intervened in Syria and did not care about the Lebanese (public) opinion," Jumblatt told the Associated Press during a June interview at his home in Beirut. "This is a historical and moral mistake toward the Syrian people." Jumblatt, who was supposedly a strong ally of the Syrian rebels too AP .
In another interview last June he told Al Arabiya the Syrian regime was only capable of assassinating.
"In Syria, there was a state and Bashar Assad turned it into a mob governing the people," the Druze leader said and added "It is a disgrace for Syrian Druze to support someone who is killing his own people."
Hezbollah's fighters openly entered the fight in Syria in May 2013 and were instrumental in helping Assad's troops push back rebels and recapture strategic towns and rebel strongholds along the border with Lebanon and near Damascus.
This turned the tide in the conflict, giving Assad's forces the upper hand against the rebels seeking to overthrow the Syrian leader, who last June won a third seven-year term in a presidential election derided as a farce by the opposition.
Jumblatt has been known for his shifting loyalties. His history with Hezbollah has been both complex and full of U-turns, according to Lebanese media reports
After the 2005 assassination of former Lebanese Prime Minister Rafik Hariri, Jumblatt sharply criticized Hezbollah and the Syrian government, which many in Lebanon blamed for the killing. Damascus denied it was behind Hariri's slaying.
In May 2008, tensions between Jumblatt's Druze followers and allies on one side and Hezbollah on the other erupted into street fighting in Beirut and mount Lebanon , killing over 100 people and nearly plunging Lebanon into another civil war. the son of Nasrallah's deputy Naim Qassem was reportedly killed during that fight.
In 2009, Jumblatt who was elected by March 14 voters reconciled with Nasrallah, who the following year personally mediated a meeting between the Jumblatt and Assad. That meeting was a sharp U-turn for Jumblatt, who only three years earlier had called the Syrian president a "snake" and a "tyrant."
Then, after his last visit to Damascus in June 2011, Jumblatt again broke with Assad.
Jumblatt's father Kamal was killed by Bashar Al Assad's dad Hafez in 1977.
Presidential issue
Maronite Patriarch Beshara Rai, who is fed up with Parliament's failure to choose a successor to former President Michel Suleiman whose term ended on May 25 , called last week or the election of a president who is neither aligned with the March 8 nor March 14 coalitions in a bid to break the 2 1/2 -month-old presidential deadlock
Jumblatt said on June 11 that he will inform former Prime Minister and Future Movement leader MP Saad Hariri during their meeting in Paris of his opposition to the presidential candidacies of both Aoun( an ally of Hezbollah and key member of the March 8 alliance) and Lebanese Forces leader Samir Geagea.
"I will tell former Prime Minister Saad Hariri that I will not vote for either Michel Aoun or Samir Geagea," Jumblatt who wields a critical swing vote in Lebanon parliament told told Al-Arabiya during an interview.
After Geagea secured 48 votes last April 23, the Hezbollah led March 8 alliance including Aoun walked out from the parliament to make sure there was no quorum to elect a president. They continued their boycott of the parliament during the 8 other sessions that followed .
Aoun has not announced his candidacy but he aspires to become a consensual nominee and has reportedly been waiting for Hariri to back him , but so far the Future Movement leader along with his March 14 allies is sticking with Geagea.
Geagea challenged Aoun to run against him or move on to plan B which calls for agreeing on a consensual candidate , Lebanese media reported last June.