Iraqi airstrike kills 60 suspected militants
A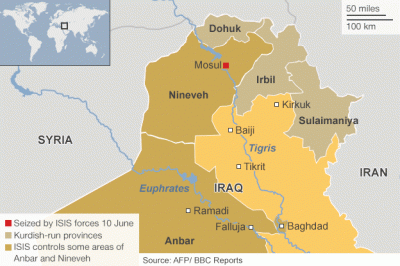 n Iraqi army airstrike targeting the Islamic State group that's seized wide swaths of territory across the country's north killed some 60 suspected militants Wednesday, state television reported.
The report, which cited unnamed intelligence officials, could not be independently verified, nor did it say whether any civilians had been killed in the strike on the northern city of Mosul.
The report said the strike freed about 300 people held by the Islamic State group at a downtown Mosul prison it had been using as a religious court and detention center, without elaborating.
A Mosul resident, speaking on condition of anonymity fearing for his own safety, told The Associated Press over the phone that families of the prisoners rushed to the site to help their relatives after the airstrike.
"The prison was partly damaged in the airstrike," he said. He said he did not know if there were casualties.
Phone calls to Iraqi officials rang unanswered Wednesday.
Sunni extremists from the al-Qaida-breakaway Islamic State group seized Mosul, Iraq's largest second-largest city, in a blitz offensive in June that also captured large swaths of the country's north and west. The militant onslaught has plunged Iraq into its worst crisis since the withdrawal of U.S. troops in 2011.
The group since has imposed a self-styled caliphate in territory it controls in Iraq and Syria, imposing their own harsh interpretation of Islamic law.
Iraqi government forces and allied Sunni tribal militiamen have been struggling to dislodge the militants from the area they captured with no apparent progress.
Few hours after the reported airstrike, Islamic State group militants broke into a nearby hospital, ordered the morgue employees to stay in a separate room and put a number of corpses inside a refrigerator, a medical official said on condition of anonymity for his own safety.
At least four militants guarded the morgue Wednesday afternoon, not allowing employees or residents to approach, the official said.
Also Wednesday, police discovered eight bullet-riddled and handcuffed corpses around Baghdad.
Six of them were found in the town of Taji, about 20 kilometers (12 miles) north of Baghdad, a police officer said. All were men between 25 to 35 years old.
Two other dead bodies, a man and woman, were found in the southeastern district of Zafaraniyah, another police officer said.
A medical official confirmed the number. All officials spoke on condition of anonymity as they were not authorized to release information.
The number of corpses found with gunshot wounds has been on rise recently in a grim reminder of the sectarian killing that engulfed Iraq in 2006 and 2007. Then, both Shiite and Sunni death squads roamed the streets and raided homes to round up people. Authorities later found the victims' corpses, often mutilated.
ABC News/ AP