Israeli airstrike kills girl, Injures 30 People, within minutes of truce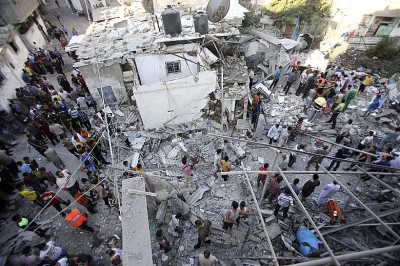 An apparent airstrike hit a home in the Gaza Strip on Monday, killing an 8-year-old girl during the first minutes of a unilateral Israeli truce in its month-old conflict with Hamas, Palestinian officials said.
Reporters in Gaza City heard the whining of an aircraft followed by an explosion and saw a plume of smoke rising over the Shati refugee camp north of the city. Gaza's Health Ministry said the blast wounded 30 people there.
An Israeli military spokeswoman said the Shati refugee camp was covered by the truce. The military is investigating, she said.
The military said an Israeli airstrike in Jabalia before the truce period killed an intelligence chief for Islamic Jihad, a militant group fighting alongside Hamas. The man, Danian Mansour, oversaw rocket-fire at Israel, the military said.
Israel declared the truce as many of its forces were withdrawing from the seaside enclave. The military said it would hold fire from 10 a.m. until 5 p.m. local time in most parts of Gaza to allow humanitarian aid to reach Gaza's civilians and let some of the 260,000 people who have been displaced by the Israeli offensive to return home.
Gaza's health ministry said 27 Palestinians were reported dead in the hours before the truce, raising the monthlong toll to 1,835. Israel has lost 64 soldiers killed in combat and three civilians killed by rocket fire into Israel, according to the military.
The military said residents of two towns east of Khan Younis, where fighting had been heavy last week, could return to their homes.
Hamas spokesman Sami Abu Zuhri said the humanitarian pause—the eighth since fighting began—aimed to "divert attention away from the Israeli massacres" and called on Gazans to exercise caution.
Israel said the truce didn't apply to the eastern part of Rafah, the territory's southernmost city, where the military was working to destroy Hamas's network of tunnels that burrow under the Gaza border into Israeli territory.
Rafah has been the scene of Gaza's heaviest fighting since late last week. On Sunday, shrapnel from an Israeli missile aimed at militants on a motorcycle there tore through a United Nations school crowded with displaced Palestinians, U.N. officials said, drawing international condemnation of Israel. Gaza's health ministry said 10 people were killed.
U.N. Secretary-General Ban Ki-moon called it "a moral outrage and a criminal act," while the Obama administration said it was "appalled" by the shelling-the third fatal blast at a U.N. shelter since the conflict began.
With Israel under pressure from the U.S. and Europe over mounting Palestinian civilian casualties, Prime Minister Benjamin Netanyahu said Saturday that the army would move troops away from urban areas of Gaza. By Sunday most of the thousands of Israeli troops sent into Gaza had regrouped on the Israeli side of the border. Mr. Netanyahu said Sunday they "will redeploy—in accordance with security needs—to continue the operation" if Hamas keeps up its attacks.
Tanks and other army vehicles were seen leaving Gaza on Sunday and gathering on Israel's side of the border. One official said most of the thousands of troops sent to the seaside enclave following an aerial offensive that began July 8 had left.
Israel pulled out of a scheduled round of cease-fire talks in Cairo over the weekend week, saying Hamas had violated several cease-fires and can't be trusted.
Members of Mr. Netanyahu's government have voiced conflicting views on how to confront Hamas, with some pushing for an all-out offensive to crush the Islamist group. Others favor ending the offensive, keeping Gaza's border tightly restricted and mobilizing international pressure on Hamas to disarm.
Mr. Netanyahu said all options were open "to return quiet to Israel. however long it takes and with as much force as needed."
More than 3,000 rockets have been fired at Israel from the Gaza Strip since fighting began on July 8, according to the Israeli military.
WSJ