Will the Syrian Torture Photos Compel U.S. Congress to Act?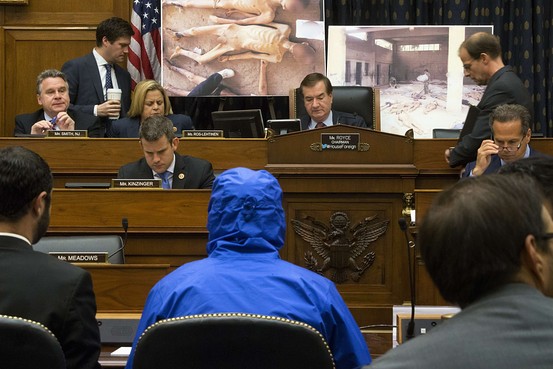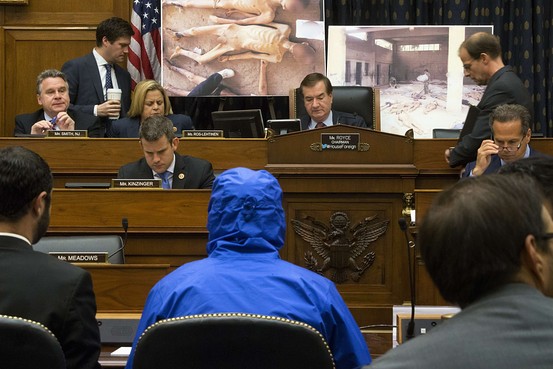 By: Jordain Carney*
U.S. Lawmakers reacted with outrage and horror at a House Foreign Affairs Committee hearing Thursday that featured photos of people who had been starved, tortured, and killed in Syria. But they also seemed at a loss for finding an immediate solution to the crisis.
Committee Chairman Ed Royce said the photos portrayed "horrendous violence carried out on an industrial scale" by the regime of Syrian President Bashar al-Assad during the country's ongoing civil war.
The photos shown Thursday were just a small portion of the roughly 50,000 that "Caesar," who uses the pseudonym in order to protect his safety, handed over to the Syrian opposition. Caesar, wearing a disguise at the hearing so he could not be identified, presented and discussed the photos on Thursday.
"I have seen horrendous pictures and bodies of people who had huge, tremendous amounts of torture like deep burns, and wounds and strangulation," he told lawmakers, building a narrative of a Syrian regime that killed its own people without hesitation. "And bodies that had their eyes gouged out as well as bodies that were severely beaten."
Caesar, a former photographer for the military police who defected and escaped from Syria with the help of the Syrian opposition, didn't take all of the photos—which show approximately 11,000 people—but he said he was responsible with a colleague for uploading every photo taken for the military police to state computers.
The photos shown at the hearing ranged from an individual man with a bloodied face to more than a dozen dead bodies laid out in the garage of a military hospital.
The Syrian government says the photos Caesar turned over to the opposition are fake, but they've been independently verified by an international team, a member of which appeared before the committee Thursday.
"Your appearance here today Caesar is like a blow to our mid-section," said Democratic Rep. Theodore Deutch.
Lawmakers on both sides of the aisle used the hearing to voice their frustration about the Obama administration's handling of Syria, but they also seemed to be at a loss for what could immediately be done.
"I believe that we missed a tremendous opportunity to help the Free Syrian Army," said Rep. Eliot Engel. " … I believe that if we had helped them they would be the preeminent opposition."
The administration is requesting approximately $500 million, as part of a larger counterterrorism fund, to help aid Syria's moderate opposition fighters. The United States has also pledged $2.4 billion in humanitarian assistance.
The committee passed a resolution earlier this year, calling for an investigation, and possible prosecution, of war crimes committed during the country's civil war. They also asked for the United Nations to establish a war-crimes tribunal.
Frederic Hof, a former U.S. ambassador and adviser to Syria, said the United States has two policy options: Either try to get along with Assad or help arm and train moderate Syrian opposition.
"The position that I don't think we want to be in is two years from now, in 2016, looking back … and saying if only we had done something in 2014," Hof said. But he also acknowledged that building up and training Syrian opposition fighters outside of Syria would be an "extraordinarily complex and expensive plan. Building an army basically."
But at least one lawmaker appeared skeptical, with Rep. Alan Grayson asking, "When has that ever worked?"
The Florida Democrat compared the idea that the United States should train an opposition army to years the United States spent in Iraq training the country's security forces—only to have many of them refuse to fight ISIL forces that have now taken control of large swaths of the country.
"Why do you think that your hypothetical force would be any different?" he asked.
* Jordain Carney is a defense reporter at National Journal

Defense One