US, UN announce deal on 72-hour Gaza cease-fire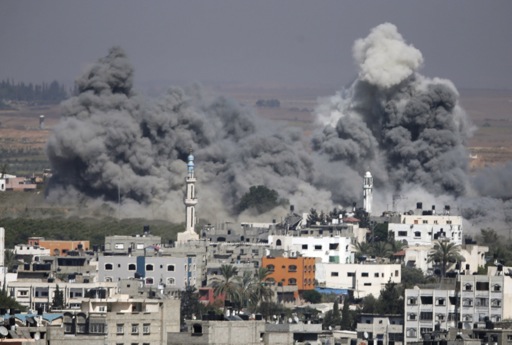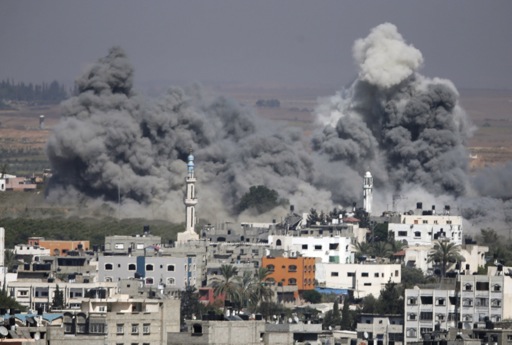 The United States and the United Nations announced a 72-hour humanitarian cease-fire in the Gaza conflict early Friday, a diplomatic bolt-from-the-blue that will suspend the bloody 24-day military campaign and set the stage for arduous negotiations between Israel and Hamas over a more lasting truce.
The announcement, made in the middle of the night in India with no warning by Secretary of State John Kerry, and also announced by Secretary General Ban Ki-moon in New York, attested to the complexity of the negotiations.
But it appeared to be more significant than a shorter cease-fire that fell apart. This time, Israeli and Palestinian negotiators will head to Cairo for formal talks on how to end the conflict, which has resulted in the deaths of more than 1,400 Palestinians and 64 on the Israeli side.
"During this time, the forces on the ground will remain in place," said the announcement, which means that Israeli troops can continue destroying the labyrinth of tunnels in Gaza that Prime Minister Benjamin Netanyahu has said are the prime target of the operation.
"We urge all parties to act with restraint until this humanitarian cease-fire begins, and to fully abide by their commitments during the cease-fire," Mr. Kerry and Mr. Ban said in the statement.
The announcement amounted to a striking reversal of fortune for Mr. Kerry, whose efforts to broker a seven-day cease-fire a week ago were rebuffed by the Israeli cabinet, though it did accept a 12-hour humanitarian pause last week and even renewed it for another day until Hamas balked. Mr. Kerry came under a hailstorm of criticism across the Israeli political spectrum and from supporters of Israel in the United States for pushing a deal which many Israelis said was tilted in favor of Hamas.
But Mr. Kerry kept at it, American and United Nations officials said, even as he was making the first visit of a senior American official to India since the election of Prime Minister Narendra Modi. Mr. Kerry made dozens of phone calls to the Israelis and Palestinians, as well as to Egypt, which has hosted envoys of both sides, and Qatar and Turkey, which have ties to Hamas.
Mr. Kerry alluded to his efforts on Thursday, thanking the Indian foreign minister for allowing him to interrupt his discussions here for "a number of must-do phone calls." A State Department official estimated that Mr. Kerry had made 100 calls in the past week.
"It's the package deal that Kerry has been working on for two weeks," said Martin S. Indyk, who served until recently as special envoy for Israeli-Palestinian negotiations. "Both sides have accepted it and the follow-on negotiations, and both sides seem to prefer that to continuing the conflict. This one should hold." OPEN GRAPHIC
Despite the heated commentary from Israeli pundits, the tone of Mr. Kerry's phone calls with Mr. Netanyahu appears to have been businesslike.
There were signs this week that Mr. Netanyahu was open to a cease-fire arrangement that would allow Israeli forces to continue their operation to seal the tunnels.
Nailing down the truce was tortuous, officials said. Each time one party proposed a change, it had to be presented to the other. In the case of Hamas, Mr. Kerry had to communicate through Qatari and Turkish officials, who are the key backers of Hamas. The agreement was not completed until 2 a.m. on Friday in New Delhi, an hour before it was announced, officials said. The cease-fire will take effect at 8 a.m. local time in Gaza and Israel.
Speaking to reporters in New Delhi, Mr. Kerry described the agreement as a "lull of opportunity" and said that there were no guarantees that the truce would be extended. "It is up the parties, all of them, to take advantage," he said.
Under the truce, Israeli forces would be allowed to continue sealing the tunnels Hamas has constructed to sneak into Israel. But offensive operations would cease and Israeli forces would not take any more ground. The United Nations would help determine the current Israeli lines.
During this period, the Palestinians would receive food and medicine and tend to their wounded. The United States had already announced $47 million for humanitarian relief.
The 72-hour period was chosen, senior State Department officials said, because it was long enough to begin negotiations without committing each side to an indefinite truce. It also is about the amount of time that Israel has said it needs to complete its mission of destroying tunnels from Gaza into its territory.
As soon as the cease-fire is underway, talks would begin in Cairo. American officials said that Egypt would be issuing the formal invitations for those talks and said that the negotiations might begin as early as Friday.
Mahmoud Abbas, the president of the Palestinian Authority, will pick the Palestinian delegation, which will include members of Hamas.
Frank Lowenstein, a senior aide to Mr. Kerry on Middle East matters, will head to Cairo along with other officials to represent the United States at the talks.
The exact choreography of the negotiations will be determined by the Egyptians. Israel and the United States do not recognize Hamas. So Israeli and American officials will not be sitting down at the same table with Hamas officials, though they could do so with other Palestinian delegates.
"This is not a time for congratulations," a somber Mr. Kerry said. "We hope that this moment of opportunity will be grasped by the parties, but nobody can force them to do that."
The substance of the negotiations will be no less tricky than the choreography. Israel and Hamas have both said they will not be satisfied with a "quiet-for-quiet" deal like those that ended violence in 2012 and 2009.
Hamas, and the broader Palestinian leadership, is demanding a lifting of all Israeli restrictions on import, export, farming and fishing, as well as an opening of the border crossings — which depends not only on Israel but on Egypt.
Mr. Netanyahu has increasingly emphasized the need to demilitarize Gaza — a process that some say can be accomplished only by Israel effectively reoccupying Gaza — and will be looking for an international mechanism to guarantee that Hamas' rocket stockpile will not be replenished and that it will not be able to dig new tunnels into Israel.
Mr. Abbas may have his own set of demands, like the release of long-serving prisoners in Israeli jails who were supposed to be freed as part of the American-brokered peace talks that collapsed in April. Hamas has also asked for the release of some 50 men, who were freed in a 2011 exchange for an abducted Israel soldier and rearrested during an Israeli crackdown in June.
Mr. Kerry's aides are hoping that a new round of negotiations might be opened either as part of the Gaza-Israel deal or soon after. But it is hard to see how the last three weeks of intense combat will make Mr. Netanyahu, Mr. Abbas or their publics more trusting of each other or more open to painful concessions.
Indeed, the news came as the conflict in Gaza appeared to be intensifying. On Thursday, Israel called up additional reservists and Mr. Netanyahu rejected calls for a cease-fire until Israeli forces finished destroying tunnels used by Hamas.
"I won't agree to any proposal that will not enable the Israeli military to finish this important task, for the sake of Israel's security," Mr. Netanyahu said.
But Israel was coming under mounting international pressure, especially after artillery shells slammed into a school filled with evacuees on Wednesday, killing at least 20 people. United Nations officials said its investigation showed that the shells had been fired by Israeli forces.
"I condemn in the strongest possible terms this serious violation of international law by Israeli forces," said Pierre Krähenbühl, the commissioner-general of the United Nations Relief and Works Agency, which operates the school.
The White House on Thursday came closer than it had since the conflict began to criticizing Israel's actions, saying it did not dispute the United Nations' conclusion that Israel was responsible for the shelling.
"What we are simply asking the Israelis to do — in fact, urging the Israelis to do — is to do more to live up to the standards that they have set for their own military operations to protect the lives of innocent civilians," the press secretary, Josh Earnest, told reporters.
Mr. Earnest called the strike on the school "totally unacceptable and totally indefensible."
N Y Times