US Suicide Bomber Came Home Before Attack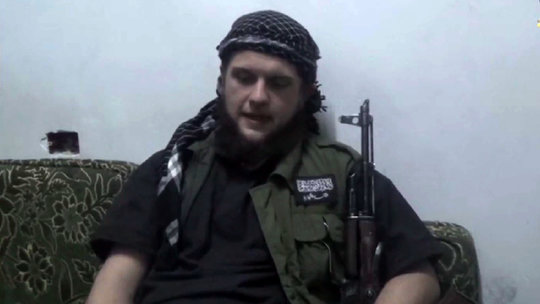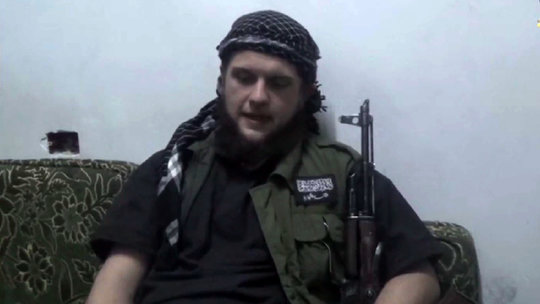 When Moner Mohammad Abusalha drove a truck packed with explosives into a restaurant in northern Syria in May, American authorities conceded that they knew little about how a young man who grew up a basketball-obsessed teenager in a Florida gated community had become a suicide bomber.
And they have never publicly acknowledged the startling discovery they made weeks into their investigation: that after receiving training by an extremist group in Syria, Mr. Abusalha had returned to the United States for several months before leaving the country for the last time.
Mr. Abusalha, 22, chose to carry out his attack in Syria rather than in the United States, but the difficulty learning about his background, motivations and travels illustrates the problems law enforcement officials face in trying to identify the Westerners — including dozens of Americans — believed to have been trained by Islamic militants in Syria.
Counterterrorism officials in both Europe and the United States have long said they consider the return of their radicalized citizens from Syria a looming threat, especially to nations easily reached from Syria. But with so many Americans traveling abroad, officials in the United States face the difficult question of how to deal with a potential danger posed by a small group of people.
Rick Nelson, a former senior counterterrorism official, said the F.B.I. and other law enforcement agencies should be blamed for missing Mr. Abusalha's travels if they did not detect red flags "like he was chatting on the Internet with radical groups or posting radical ideological statements on social media."
But "if he was below the radar and basically bought a ticket and then came back, there would be no reason to investigate him," said Mr. Nelson, now a vice president at Cross Match Technologies. "It's fairly easy to go overseas and stay under the radar."
An F.B.I. spokesman, Michael Kortan, declined to discuss Mr. Abusalha but acknowledged the problems facing law enforcement officials.
"Although we cannot speak to details in this specific case, U.S. officials have warned for months of the difficulties of identifying Americans who travel to Syria to engage in armed conflict," Mr. Kortan said. "This incident exemplifies the challenges faced by the F.B.I. in detecting U.S. citizens who seek to travel to Syria to engage in jihad."
But Mr. Abusalha's case is also evidence that Westerners drawn to the Syrian conflict do not necessarily have the goal of waging war beyond Syria's borders. The Nusra Front, the group that trained Mr. Abusalha, is publicly allied with Al Qaeda but committed first to fighting the government of President Bashar al-Assad in Syria's bloody civil war.
American officials are still piecing together Mr. Abusalha's travels within the United States in between those two Syria trips and gathering information about whom he met. Some insight into his time in Syria was contained in a lengthy video released by the Nusra Front on Monday. Mr. Abusalha is shown tearing, biting and burning his American passport, and explaining his reasons for deciding to give his life for jihad. He said he had gone to Syria from Turkey, where he landed with just $20 in his pocket for a Turkish visa.
"From there I had no money; I didn't have nobody to even help me get to Syria," he said. He did not say how he had gotten from Turkey to Syria.
Before leaving the United States, he said, he walked five miles to the airport.
"I asked Allah the whole way to make it easy for me, and Allah made it easy for me," he said, adding that he had tried to recruit other Americans to go to Syria.
The F.B.I. and the Department of Homeland Security had some indication at the time of his first trip that Mr. Abusalha had traveled to Syria. But they were unaware that he had trained at the Nusra camp and had no information to indicate he planned to take his life, according to the officials. It was only after he arrived in Syria the second time that the United States obtained information about his intention for a suicide attack.
"He was on the path at that point and had decided on launching the attack," one law enforcement official said. "It was fairly close in time that we learned that and that he launched it."
Matthew G. Olsen, the director of the National Counterterrorism Center, said at a conference last week that "once they get to Syria, our ability to understand where they are or what they're doing is really limited."
He said that law enforcement and intelligence agencies estimated that over 1,000 Westerners — including approximately 100 Americans — had received training in Syria, but that the number was "likely to be higher" because American officials had so little visibility of the movements of foreign fighters into the country.
There have been other occasions when Americans have received terrorist training overseas and then returned home, unbeknown to law enforcement agencies. Before he tried to detonate a bomb in Times Square in 2010, Faisal Shahzad, a naturalized American from Pakistan, received explosives training at a camp run by the Pakistani Taliban. Another American, David Headley, made several trips to Pakistani training camps run by the group Lashkar-e-Taiba and helped scout targets for the group, which carried out the 2008 terrorist attacks in Mumbai.
Mr. Nelson, the former counterterrorism official, said Americans traveling to Syria were "a big problem in small numbers."
"It's privacy versus security — you can't track the movements of every American overseas," he said. "It's only a hundred or so who have traveled there, and there are thousands of Americans who travel every day."
In the newly released video, Mr. Abusalha spoke directly into the camera for nearly a half-hour, a gun sometimes resting on his shoulder. At times he was calm; at other times he shouted in anger, pounded his chest and pointed a finger at the camera.
He said those fighting in Syria were not terrorists. "You think jihad is evil and terrorism," he said.
The United States, Russia, China and the Syrian government of Mr. Assad had killed many Muslims, including children, he said. "You think you are safe; you are not safe," he said.
Even as he was explaining how he was about to give his life, he said his life in Syria had been far better than anything he had ever experienced.
"I lived in America; I know how it is," he said. "You think you're happy? You're not happy. You're never happy. I was never happy. I was always sad and depressed."
Then, crying, he said goodbye to his family.
"Mother," he said, pausing. "I love you, Mom. Stay strong for Allah."
He said goodbye to his father, who is a Palestinian-American, in Arabic.
To his brother, he said, "I love you, bro."
The video ended with images of the large cargo truck used in the attack, shown packed with explosives and outfitted with armored plates.
It drove into the distance, and then the video cut to a clip of a giant explosion.
NY Times