Gaza: Israel targets UN school, 5 mosques as death toll tops 1240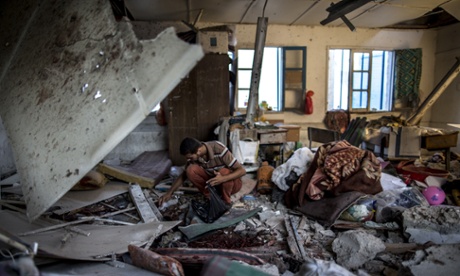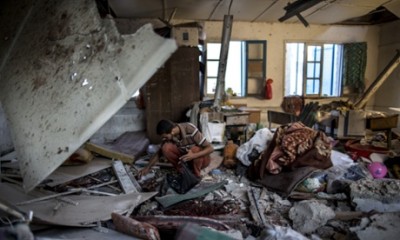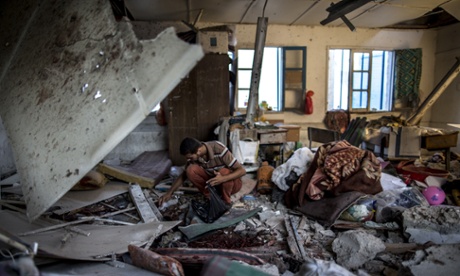 At least 15 Palestinians were killed and about 90 injured early on Wednesday when a UN school sheltering people was hit by shells during a second night of relentless bombardment that followed an Israeli warning of a protracted military campaign.
Gaza health officials said at least 43 people died in intense air strikes and tank shelling of Jabaliya, a neighbourhood of Gaza City. The death toll included the people at the school who had fled their own homes. Bombardment from Israeli gunboats continued without respite for much of the night.
The last two nights have seen the most fierce bombardment in this Gaza offensive. In 23 days more than 1,240 Palestinians, most of them civilians, have been killed. On the Israeli side 53 soldiers and three civilians have been killed.
A spokeswoman for the Israel Defence Forces said the military was investigating reports that a UN school had been struck.
Last week 15 people died and about 200 were wounded when another UN school in Beit Hanoun was hit as the playground was filled with families awaiting evacuation amid heavy fighting. Israel denied it was responsible for the deaths, saying a single "errant" shell fired by its forces hit the school playground, which was empty at the time.
But according to testimonies gathered by UN staff, an initial shell was followed by "several others in the close vicinity of the school within a matter of minutes", spokesman Chris Gunness said. Reporters who visited the scene minutes afterwards said damage and debris was consistent with mortar rounds.
The UN agency for Palestinian refugees, UNRWA, said on Tuesday it had found a cache of rockets at one of its schools in Gaza and deplored those who had put them there for placing civilians in harm's way.
"This is yet another flagrant violation of the neutrality of our premises. We call on all the warring parties to respect the inviolability of UN property," Gunness said. Two similar discoveries were made last week.
Israel says militants from Hamas and other organisations launch rockets from the vicinity of UNRWA properties.
More than 200,000 people in Gaza have taken shelter in the UN's schools and properties after Israel warned them to leave whole neighbourhoods that it was planning to bomb. UNRWA said it was at "breaking point".
The Israeli military said it had targeted 75 sites since midnight, taking the total since the beginning of the conflict to 4,100. It had detonated three tunnels in Gaza in the past 24 hours, it added.
Among the overnight targets were five mosques, which the IDF said housed tunnel shafts, weapons stores and lookout posts, and two "facilities" utilised by senior Hamas militants.
Amid confusing reports about possible ceasefires, the Israeli security cabinet was due to meet on Wednesday to review the conflict and consider next steps.
A Palestinian delegation including President Mahmoud Abbas and representatives of Hamas and Islamic Jihad, the main militant factions in Gaza, was due to arrive in Cairo on Wednesday for ceasefire talks
International pressure for an end to the bloodshed has continued to mount. On Tuesday the British prime minister, David Cameron, added his weight to calls for an unconditional, immediate humanitarian ceasefire.
"What we're seeing is absolutely heartbreaking in terms of the loss of life … everyone wants to see this stopped," he said. Blaming Hamas for triggering the conflict, he added: "Hamas must stop attacking Israel with rocket attacks. That is how this started. It's completely unjustified and they need to stop as part of the ceasefire."
Chile and Peru said they were recalling their ambassadors to Israel. "Chile observes with great concern and discouragement that the military operations – which at this point appear to be a collective punishment to the Palestinian civil population in Gaza – don't respect fundamental norms of international humanitarian law," its foreign ministry said.
But support for the military operation among the Israeli public remained solid. A poll published by Tel Aviv university on Tuesday found 95% of Israeli Jews felt the offensive was justified. Only 4% believed too much force had been used.
Hamas released a video showing fighters inside tunnels in Gaza and containing a voice message from Mohammed Deif, the leader of its armed wing, the Qassam Brigades. "The occupying entity will not enjoy security unless our people live in freedom and dignity," Deif said. "There will be no ceasefire before the [Israeli] aggression is stopped and the blockade is lifted. We will not accept interim solutions."
The Guardian