Rai urges parliament to show solidarity with Lebanon and elect a president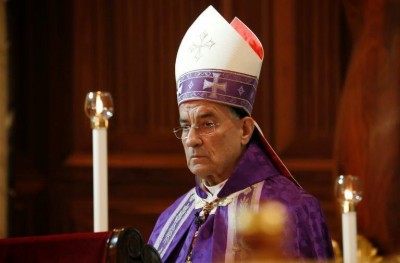 Maronite Patriarch Beshara Boutros al-Rai commented about yesterday's parliament meeting that was aimed as a show of solidarity towards Gaza and Iraqi Christians by reiterating his demand for the immediate election of a new president stressing that the support Lebanon's parliamentarians has shown to Palestinians and Iraqi Christians should equal their dedication to the Lebanese Republic.
"How beautiful it was to see the parliament gathered yesterday, to declare its solidarity with the people of Gaza and Mosul, with all its members represented," Rai said during his weekly homily.
"How much more beautiful it would be if [the parliament] convened with all its members to declare its solidarity with the republic and the presidency [by] electing a president."
He added that parliament should "convene and elect a president from [March 8, March 14] or outside of [those two alliances]."
"The important thing is to elect a president that can meet the country's needs," Rai said.
On Saturday, the Lebanese parliament held an exceptional session in solidarity with Gazan Palestinians and Iraqi Christians amid the violence threatening both groups.
Over 1050 Palestinians have been killed in Israel's latest offensive in Gaza, launched on July 8 in response to Hamas militants firing rockets into the Jewish state.
Meanwhile, jihadist militants, who have run the Iraqi city of Mosul since a sweeping military offensive that began six weeks ago, recently issued an ultimatum to thousands of Christians to either convert, pay a tax, leave or face imminent execution.
Lebanon has had no president since May 25, when Michel Suleiman's mandate expired, as the two rival blocs that dominate Lebanese politics have been unable to agree on a successor.
In yesterday's session the lawmakers voiced their support to the Palestinian people in Gaza and minorities in Iraq that are being persecuted by the Islamic State of Iraq and the Levant.
Free Patriotic Movement chief MP Michel Aoun , who along with Hezbollah have been behind the boycott of the parliament kicked off the session by condemning the developments in Gaza and Iraq.
"All minorities in Mosul are being subject to genocide," he said
"We question the silence of the Arab world over the crimes against the Christians," he said.
Dictatorship created extremism
Former lebanese PM and Future Movement bloc chief MP Fouad Siniora remarked that Mosul would not be witnessing such oppression had Iraq had a just state.
"A just state protects its people," he stressed, while saying that the moderate people in the region are victims of extremists.
"Dictatorship created extremism. The people's struggle to escape barrel bombs landed them in the hands of fundamentalists," he said in reference to the continued use of barrel bombs by the Syrian regime in its attacks against the people.
Over 170,000 Syrians, mostly civilians have been killed in Syria since the uprising began in March 2011
"We have no choice but to adhere to the state in order to shun fundamentalists and militias," Siniora urged.