Hamas agrees to 24-hour truce in Gaza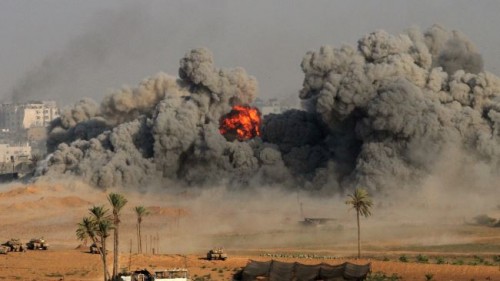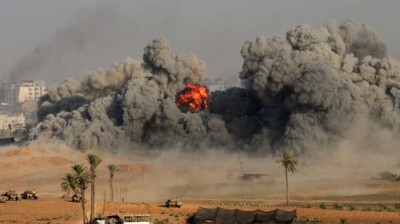 Hamas and other Palestinian factions have agreed to a 24-hour humanitarian truce in the Gaza Strip, starting at 2pm local time (11:00 GMT).
Sami Abu Zuhri said in a statement on Sunday the group took the decision after studying a UN proposal for a ceasefire and taking into consideration the situation of the people of Gaza and the Muslim Eid al-Fitr celebrations expected to start on Monday.
As 2pm came and went, the sound of heavy Israeli shelling could be heard within Gaza and sirens sounded in Israeli communities near the border area, Reuters news agency reported, suggesting Palestinian fighters had fired missiles at them.
There was no immediate word from Israel, which called off its own 24-hour truce earlier in the day after Hamas fired a volley of rockets into southern and central Israel.
The Israeli military attributed its decision to resume aerial, naval and ground activity to "Hamas's incessant rocket fire throughout the humanitarian window, which was agreed upon for the civilian population in Gaza".
Smoke was seen billowing over several locations in Gaza, which is governed by Hamas, shortly after the Israeli announcement.
The Gaza Health Ministry said two Palestinians were killed at the Nusairat refugee camp in central Gaza and three others in Khan Younis in the south. The death toll now stands at more than 1,050.
Al Jazeera's Nicole Johnston, reporting from Gaza City, said there was tank shelling in the east of territory, and naval ships struck the beaches in the west. There were also several air strikes.
Ammar Hijazi, an official in the Palestinian Ministry of Foreign Affairs, speaks to Al Jazeera from Ramallah
An air strike in central Gaza City hit al-Shoroq building, which houses foreign and local media, including Hamas-affiliated Al-Aqsa TV. The media offices were evacuated earlier this week.
Palestinian fighters said they had fired at least 20 rockets towards Israel overnight and into the morning. Air-raid sirens sounded throughout southern and central Israel during morning rush hour.
Documentary: Shujayea, massacre at dawn
At least five rockets landed in Israel and two others were intercepted by the Iron Dome missile defence system, the Israeli military said.
At least 1,054 Palestinians, mostly civilians, have been killed and more than 6,000 injured since Israel launched its offensive on the Mediterranean enclave, home to 1.8 million Palestinians, on July 8.
Israel said five of its soldiers were killed in pre-truce fighting in Gaza and two others died of their wounds in hospital.
Another soldier was killed by shell fire overnight, bringing the army death toll to 43.
Three civilians, including two Israeli citizens and a Thai labourer, have been killed by rockets fired from Gaza.
Al Jazeera