UN: 9 aid trucks enter Syria via Turkey without govt. approval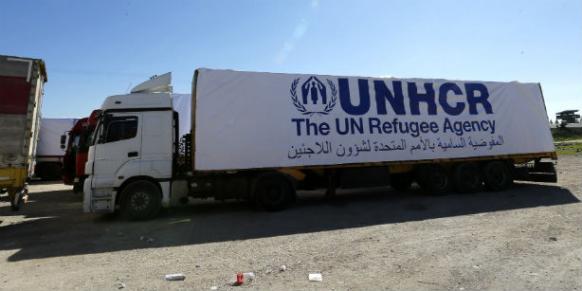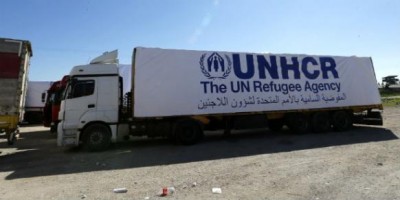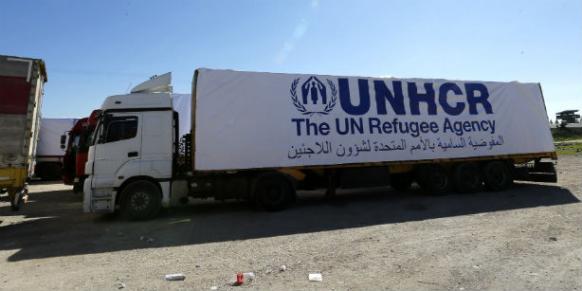 Nine trucks carrying food and other supplies crossed into Syria through a Turkish checkpoint Thursday – the first to do so under a UN resolution authorizing cross-border aid deliveries without Syrian government approval.
Amanda Pitt, spokeswoman for the UN Office for the Coordination of Humanitarian Affairs, said the trucks contained food, water purification tablets, and sanitation and shelter materials. The convoy went through the Bab al-Salam crossing toward rebel-held areas but its destination was not known, she said.
"It is, I believe, the first convoy going into Syria through one of the four border crossings under the UN Security Council resolution," Pitt said.
The council unanimously approved a resolution on July 14 authorizing cross-border delivery of aid to Syrians in rebel-held areas without government approval through four crossings – two in Turkey, one in Jordan and one in Iraq.
The announcement of the crossing coincided with UN Secretary-General Ban Ki-moon's monthly report to the Security Council on the worsening humanitarian situation in the three-year-old Syrian conflict, which has killed more than 150,000 people.
Ban denounced "indiscriminate aerial bombings by government forces and indiscriminate shelling by armed opposition, extremist, and … terrorist groups." He said non-Syrian fighters are increasingly participating in the fighting, supporting all sides.
The secretary-general accused the Syrian government and opposition fighters of obstructing humanitarian aid to Syrians as "a tactic of war" and demanded that all parties allow access to millions in desperate need of help.
Approximately 10.8 million people need humanitarian assistance in Syria, including 4.7 million in hard-to-reach areas and at least 241,000 living in areas besieged by either government or opposition forces, he said.
Ban said both sides have stepped up targeting of vital services, interrupting the supply of safe drinking water and electricity.
"This is compounding the already dire water, sanitation and health conditions in conflict areas and resulting in an increased risk of outbreaks of waterborne diseases," Ban said.
The UN chief said new truck-sealing procedures ordered by the government reduced the delivery of aid in May and June.
Ban said getting aid to people in hard-to-reach areas also remains "extremely difficult" in view of new procedures which have centralized government approvals. He accused the government of continuing to prevent injectable medicines and surgical equipment from getting to these areas "in flagrant violation of international humanitarian law."
Ban also accused opposition groups of "severely constraining access" to eastern Syria and singled out the Islamic State "terrorist group" for blocking all humanitarian and commercial access into areas it controls, affecting 711,000 people.
Today's Zaman