Putin May 'Light a Fire' He Can't Stop in Ukraine: U.S.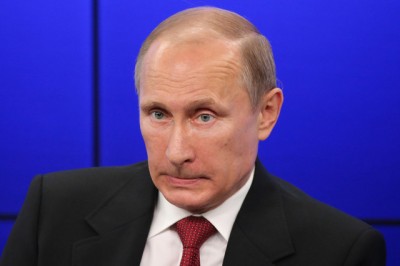 U.S. military's top commander, Joint Chiefs Chairman Gen. Martin Dempsey, warned Thursday night that with the Russian military's artillery assault on Ukrainian forces this week, President Vladimir Putin "may actually light a fire" he cannot control.
Instead of de-escalating the violence, Dempsey said, Putin has "actually taken a decision to escalate."
In an appearance before the Aspen Institute, Dempsey said Putin's decision to launch artillery strikes across the border into Ukraine has changed the entire equation and relationship between Russia and the United States and Europe.
Dempsey warned that Russia's escalation of violence has sparked a "rising tide of nationalism" that could spread throughout Europe, which he said, "I find quite dangerous."
Tensions have also been heightened by the downing last week of a Malaysia Airlines jetliner in eastern Ukraine. The United States has said there is evidence that the jet with 298 aboard was hit by a Russian-made surface-to-air missile fired by the separatists battling Ukraine's government.
As an early precaution, Dempsey revealed that the Pentagon is already looking at possible U.S. and NATO military responses to Russia's aggressive actions against Ukraine, such as U.S. military "basing, lines of communications, sea lanes."
According to Dempsey, U.S. military planners are looking at options that "we haven't had to look at for 20 years," since the end of the Cold War. Dempsey suggested the U.S. and its European allies would discuss a potential response at a NATO summit in September.
Dempsey laid the responsibility for the escalation in violence in Ukraine on Putin himself.
"This is very clearly Putin" attempting to "redress grievances for the fall of the Soviet Union," Dempsey said.
NBC News