Israel, Hamas agree to 5 hour Gaza 'humanitarian' ceasefire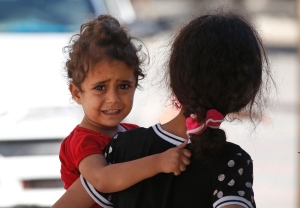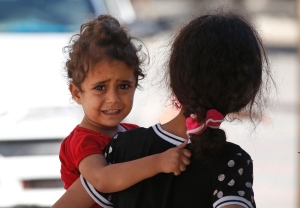 Israel and Hamas agreed to a five-hour U.N. brokered "humanitarian" pause to their 9-day-long battle, offering the most encouraging sign yet that the fierce fighting could come to an end.
Israel's bombardment of Gaza has killed more than 200 Palestinians, including four boys struck on a beach Wednesday by shells fired from a navy ship. Israel said it would hold its fire Thursday from 10 a.m. under a plan to allow Palestinians to restock food, water and other necessities. But it vowed to retaliate "firmly and decisively" if Hamas or other militant groups launch attacks on Israel during that time.
Later, Hamas spokesman Sami Abu Zuhri said that following consultations with various factions the Gaza militants had decided to respect the pause as well and would refrain from firing rockets during those hours as well.
Robert Serry, the UN special coordinator for the Middle East peace process, had asked Israel to agree to a "unilateral humanitarian pause" so that the supplies can be delivered to Gaza, said UN deputy spokesman Farhan Haq. Serry will "urge the parties in Gaza to respect that pause," Haq said.
U.S. supports Egypt's ceasefire efforts
Israel previously had halted its fire for six hours Tuesday after Egypt put forward a cease-fire proposal that unravelled. Hamas official Sami Abu Zuhri said Wednesday his group had formally rejected the plan, bemoaning what he called little support from the Arab world.
But Palestinian President Mahmoud Abbas met Wednesday in Cairo with a senior official from Hamas to try to salvage the Egyptian proposal.
In Washington, President Barack Obama said the U.S. supports Egypt's continued efforts to restore the 2012 ceasefire and will use all of its diplomatic resources and relationships to secure a deal to end the violence.
Israel's military said its forces bombed at least 150 targets in Gaza on Wednesday. It did not provide more specifics, but the Gaza Interior Ministry's website said 30 houses, including those of senior Hamas leaders Mahmoud Zahar, Jamila Shanti, Fathi Hamas and Ismail Ashkar, were targeted.
Zahar was a key figure in Hamas' violent takeover of Gaza in 2007, while the other three were members of the Palestinian parliament elected in 2006. Many Hamas leaders have gone into hiding since Israel began its bombardment July 8 in response to rocket attacks from Gaza.
Gaza health official Ashraf al-Kidra said the Palestinian death toll rose to 222, with 1,670 wounded. Only one Israeli has so far died in the conflict — a civilian distributing food to soldiers in southern Israel on Tuesday evening — largely because of the effectiveness of Israel's Iron Dome air defence system in downing incoming rockets.
'It looked as if the shells were chasing them'
Earlier Wednesday, four Palestinian children were killed and one was critically wounded on a Gaza beach by a shell fired by an Israeli naval gunboat, a Palestinian health official said, as Palestinian militants fired a further 70 rockets into Israel.
Asked about the incident, an Israeli military spokesman in Tel Aviv said he was checking the report.
"The kids were playing football on the beach. They were all … under the age of 15," said Ahmed Abu Hassera, who said he witnessed the incident at the shore in Gaza.
"When the first shell hit the land, they ran away but another shell hit them all," said the 22-year-old, whose shirt was stained with blood.
"It looked as if the shells were chasing them," he told Reuters.
Ashraf al-Qidra, spokesman for the Gaza Health Ministry, said four of the youngsters were killed and a fifth youth was in critical condition. The four killed were all cousins aged nine to 11, he said, calling the strike "a cowardly crime."
The Gaza beach area has been shelled frequently since Israel began its offensive in the enclave on July 8 following a surge in Palestinian cross-border rocket strikes.
Israeli airstrikes targeted senior Hamas leaders on Wednesday. The Palestinian death toll now stands at 204, according to health officials in Gaza. (Ibraheem Abu Mustafa/Reuters)
The Israeli military said on Wednesday it has agreed to a UN-brokered five-hour pause in its strikes on the Gaza Strip to allow Palestinians to restock supplies.
The military said in a statement that it would hold its fire for five hours starting at 10:00 a.m.
It warns however that it will retaliate "firmly and decisively" if Hamas or other militant groups launch attacks on Israel during that time.
Earlier, Israeli prime minister Benjamin Netanyahu said that Hamas had shut the door to a diplomatic solution to the Gaza conflict. Netanyahu met earlier with Italy's foreign minister Federica Mogherini in Jerusalem.
"Hamas just shut the door to a diplomatic solution and therefore bears the sole responsibility for the continuation of the violence that's responsible for the civilian deaths and innocent deaths of Palestinians that it uses as human shields," Netanyahu said.

Egyptian ceasefire proposal definitively rejected
Gaza health officials said 207 Palestinians, most of them civilians, had been killed in air and naval barrages, in the worst flareup of Israeli-Palestinian violence in two years.
One Israeli has been killed by shelling from Gaza that has made a race to shelter a daily routine for hundreds of thousands in Israel.
A senior Hamas official said Wednesday that the Islamic militant group has formally closed the door on the Egyptian proposal for a ceasefire aimed at ending the conflict with Israel.
Sami Abu Zuhri said in a text message to The Associated Press that the group "informed Cairo today officially that we don't accept the proposal they made."
The Egyptian proposal had called for a halt in hostilities by Tuesday night to be followed by talks on the terms of a longer-term ceasefire, including easing Gaza's seven-year-old border blockade by Israel and Egypt.
Israel had held out hope that the ceasefire deal plan could be salvaged, but Abu Zuhri said it has been definitively rejected.
Israel accepted the proposal and briefly halted airstrikes Tuesday, but it has renewed them as Palestinian militants continued firing rockets at its territory.
CBC- Ca