William Hague Steps Down as UK's Foreign Secretary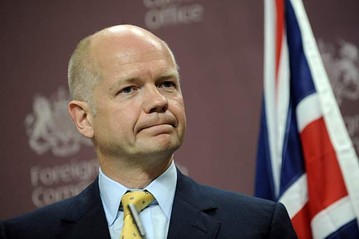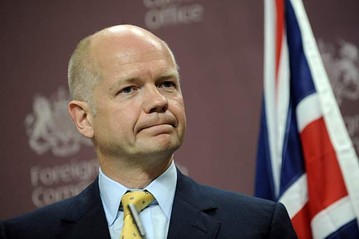 LONDON— William Hague is stepping down as U.K. foreign secretary, the government said on Monday, as Prime Minister David Cameron shuffled his cabinet in an apparent attempt to build a winning team for the general election in May next year.
Expectations have grown in recent days that Mr. Cameron would usher in some new Conservative ministers, including several women, to try and improve the center-right party's chances of beating the Labour Party which remains ahead in the polls, but Mr. Hague's departure took many by surprise.
The British Broadcasting Corp. and other local media said Defense Secretary Philip Hammond was expected to be named as Mr. Hague's successor. Mr. Hammond's appointment could raise concerns about Britain's future in the European Union after he said last year that if there was no change in the U.K.'s relationship with the bloc he would vote to leave it in a national referendum on membership. Mr. Cameron has promised that if he wins a second term he will redraw the U.K.'s ties with the EU and hold an in-out referendum by the end of 2017.
Number 10 declined to comment on the reports regarding Mr. Hammond, and said a new foreign secretary will be named on Tuesday while seven other ministers, including veteran Kenneth Clarke, will be replaced.
A person familiar with the changes said Chancellor of the Exchequer George Osborne wouldn't be the new foreign secretary, and that he remained committed to implementing the government's economic plan.
Labour said the reshuffle showed Mr. Cameron was weak and running scared of the right wing of his party.
"Britain's foreign policy is now set to be led by a man who has talked about taking us out of the EU. The Tories [Conservatives] are now retreating out of Europe with all the threat that poses to jobs and business in Britain," Michael Dugher, a senior Labour lawmaker, said in a statement.
Any attempt to address a long-standing gender imbalance in the cabinet was too little too late, the center-left party said. In opposition Mr. Cameron said he wanted a third of his ministers to be women. That target was part of a broader drive to modernize the Conservative brand and win the support of the political center-ground, traditionally seen as a the key to winning U.K. general elections.
A survey of 1,963 voters on July 10-11 by polling firm YouGov showed the opposition Labour on 38% of voting intentions, with the Conservatives on 33%. The Liberal Democrats, the smaller party in the governing coalition, were on 9%.
"He's [Mr. Cameron] had opportunities to make changes this deep before and he hasn't done it. The fact that he's doing it 10 months before an election—it clearly shows he thinks he feels he needs to," said Andrew Hawkins, chairman of polling firm ComRes.
Before quitting parliament at the next election, Mr. Hague will remain as Mr. Cameron's de facto political deputy and a leading campaigner in key constituencies, particularly in the north of England, the prime minister said.
"Not only has he been a first-class foreign secretary—he has also been a confidant, a wise counselor and a great friend," the prime minister said.
Mr. Hague, 53, was leader of the Conservatives for four years while the center-right party was in opposition. He moved to foreign affairs in 2005 and became foreign secretary when Mr. Cameron's coalition was formed in 2010. During his tenure he was responsible for a new commercial focus for the foreign office, spearheading the government's efforts to increase exports to fast-growing emerging markets to offset the economic crisis in the euro zone.
"In government there is a balance to strike between experience on the one hand and the need for renewal on the other, and I informed the prime minister last summer that I would not be a candidate at the next general election," Mr. Hague said in a statement, adding that he planned to focus on writing and campaigning for international causes after the election.
Mr. Clarke, who was first elected in 1970, was the other high-profile resignation. He has held almost every senior ministerial brief during his career, serving previously under Margaret Thatcher and John Major in jobs including treasury chief and home secretary.
His pro-European views put him at odds with the prevailing euroskeptic mood in the Conservative party, and were blamed for his failure to win three party leadership contests. He has said it would be a catastrophe for the economy and the U.K.'s standing in the world if it were to leave the EU.