Heavy clashes between Hezbollah, Syrian rebels leave dozens dead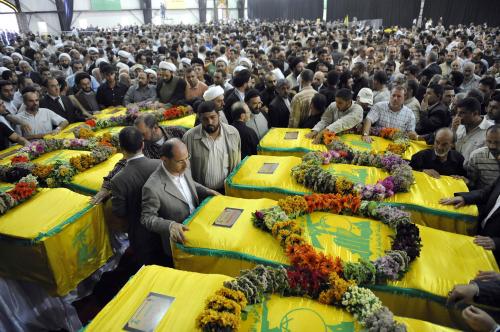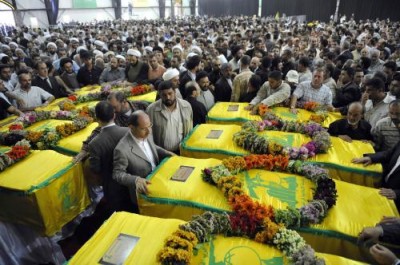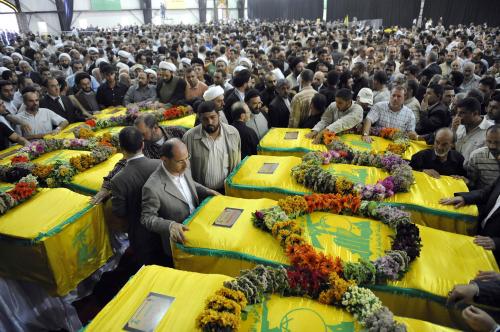 Heavy clashes along the Syria-Lebanon border killed several people, including a number of Hezbollah fighters and Syrian rebels, Lebanese officials and a Syrian activist group said Monday.
The area has long been a flashpoint in the Syrian civil war. Since November, Syrian government troops, backed by Lebanese Hezbollah militants, have been on the offensive in Syria's mountainous Qalamoun region, trying to clear it of opposition fighters. The government side has so far captured most towns and villages there but hundreds of rebels are still active in the rugged region.
The latest clashes broke out on Sunday after Syrian rebels tried to infiltrate into Lebanon and clashed with Hezbollah fighters, said officials in eastern Lebanon, speaking on condition of anonymity in line with regulations.
They said the fighting, which took place near the Lebanese village of Youneen, ended at dawn on Monday after Hezbollah took control of the nearby hills.
The Britain-based Syrian Observatory for Human Rights said the fighting left seven Hezbollah fighters dead and 31 wounded. The activist group said 17 rebels were killed and 23 wounded, and that Hezbollah fighters captured 14 rebels.
The Lebanese officials confirmed that a number of Hezbollah fighters were killed in the battles, without giving a figure. Facebook pages close to the Lebanese Shiite group said six Hezbollah fighters were killed, listing their names and hometowns.
Qassem al-Zein, a Syrian doctor who works at a makeshift hospital in the Lebanese border town of Arsal, said they received the bodies of three people killed in Syria on Sunday as well as 15 wounded. Syrian rebels enjoy wide support in Arsal, which is predominantly Sunni — as are most opposition fighters.
"It was a very intense night," said a resident of the Lebanese city of Baalbek, which is close to the area of the fighting. The man, speaking on condition of anonymity for fear for his own safety, said Lebanese soldiers and policemen were took measures around Baalbek on Sunday night, setting up checkpoints, stopping cars and asking for people's identity cards.
The Iran-backed Hezbollah openly joined the Syrian conflict last year. The group's fighters have been instrumental to President Bashar Assad's success on the battlefield, tipping the balance of power in the 3-year-old conflict in the government's favor after ousting predominantly Sunni rebels from their strongholds along much of the Lebanese border and near the Syrian capital, Damascus.
Syria's crisis, which began in March 2011, has killed more than 170,000 people, activists say.
Huffington Post