Church of England to vote on whether to allow women bishops-Update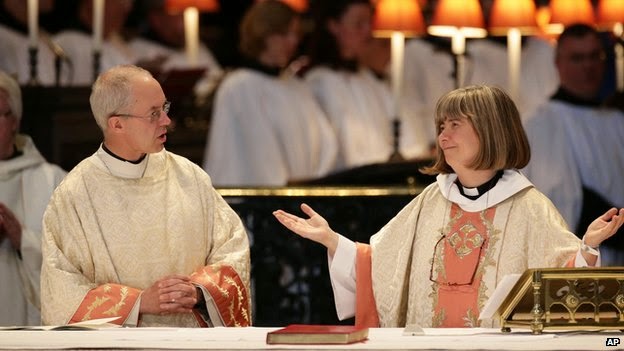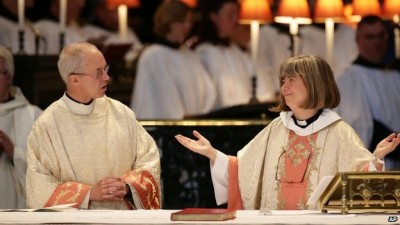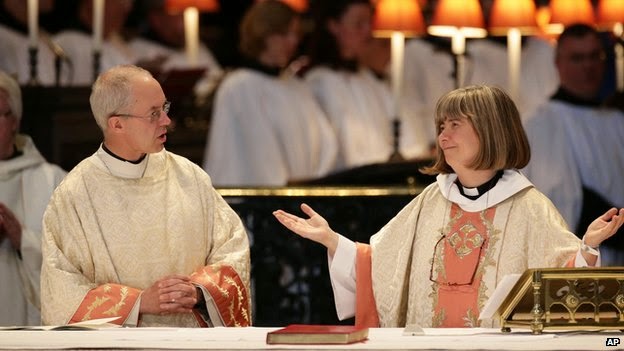 The Church of England is being given a crucial second chance today to back the introduction of women bishops.
Members of the Church's governing body, the General Synod, will be asked to give final approval for legislation introducing women bishops.
The plan, if passed, could mean the first woman diocesan bishop appointed by Christmas.
The knife-edge vote comes after the legislation was derailed by just six votes cast by lay members in November 2012, causing shock and bitter recriminations within the Church of England and prompting threats of an intervention by Parliament.
The Archbishop of Canterbury, the Most Rev Justin Welby, speaking yesterday on the BBC One Andrew Marr Show, admitted that the general public would find it "incomprehensible" that women bishops had not yet been introduced by the Church of England.
He said he was "hopeful" that the legislation will now be passed. He said he could not impose the legislation on the Church of England if it fails again.
The new simplified legislation includes a declaration by the Church of England bishops outlining arrangements for parishes who do not accept the authority of a woman bishop. An ombudsman will be appointed to help resolve disputes.
The vote comes after mediation and conflict management experts were brought in last year to help resolve differences between Anglo-Catholics and conservative evangelicals opposed to women's ordination and supporters of women bishops.
The vote comes after 43 out of 44 dioceses – including two which voted against in the past – have backed the legislation overwhelmingly. The 44th diocese, Europe, was unable to complete the consultation in time.
If given final approval, the plan will go to the ecclesiastical committee of Parliament and the House of Commons and House of Lords for consideration before royal assent is given.
The General Synod would then meet on November 17th to formally declare that women can be bishops.
The first women were ordained in 1994 in the Church of England and they now make up about a third all clergy. There are six female cathedral deans and more than 20 women archdeacons.
Southwell and Nottingham diocese, which has a vacancy after its bishop the Rt Rev Paul Butler was appointed as Bishop of Durham, would be the first diocesan see where a woman could be appointed.
Retirements have also been announced in the Sees of Gloucester, Newcastle and Oxford.
The Rev Jody Stowell, from Harrow, north west London, and a spokeswoman for Women and the Church, said they were "hopeful" of success in the vote.
"We are hopeful because of all the work that has been done within the General Synod in terms of relationships between people who have different opinions on this," she said.
"We would not say we are overly confident at all because it is the same set of people who voted it down in November 2012 so we have to be realistic about that."
Fr David Houlding, an Anglo-Catholic vicar in north London and a General Synod member, said he would be voting against giving final approval for the legislation on principle.
"I will be voting against, none of the Catholic group are abstaining," he said. "I think the new arrangements are good and that is why I think it will go through and I am quite happy about that. But there is still a problem with the issue itself."
But he added that if the legislation collapsed a second time, it would be a "terrible disaster" for the Church of England. "If it collapses, it will be a terrible, terrible disaster for the Church of England. If it collapses, and we have to do somet
British prime binister David Cameron said today: "I am in favour of women bishops. I think Archbishop Welby has shown great leadership on this issue and I wish him well."hing different, I think the Church of England will divide."
Irish Times
Update:
The Church of England voted on Monday to allow women to become bishops, a historic decision which overturns centuries of tradition in a Church that has been deeply divided over the issue.