Berri ,Jumblatt agree to extend Lebanon parliament term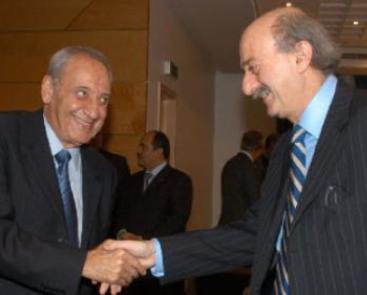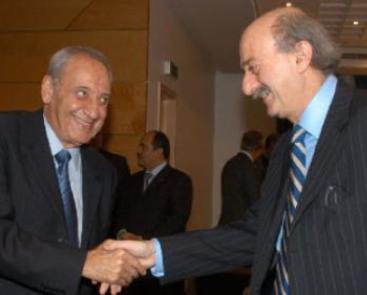 Lebanon Speaker Nabih Berri   and  Progressive Socialist Party leader MP Walid Jumblatt agreed  on Saturday  that the  parliamentary elections should not  be staged before  the election of a new president, to replace Michel Suleiman whose term ended last may 25th,  al-Akhbar newspaper reported.
According to the daily Berri and Jumblatt are preparing a proposal that calls for the  extension of the parliament's term for two  to three years
In May 2013, the parliament voted to extend its own mandate until November 20, 2014  after the rival political parties failed to reach  a deal on a new electoral law.
Almost all  MPs  from all blocs voted for the extension with the exception of  Change and Reform bloc, which is headed by MP Michel Aoun
The Lebanese lawmakers failed to elect a president on Wednesday, for the eighth time, to succeed president  Suleiman , prolonging a political vacuum as the country struggles with violence, economic decline and an influx of Syrian refugees.
The civil war in neighbouring Syria has aggravated long-standing rivalries in Lebanon, where political power is divided among religious communities – the presidency goes to a Maronite Christian, the parliament speaker is a Shi'ite Muslim and the prime minister a Sunni.
Berri said he would postpone a vote for a new president until July 23 because not enough parliamentarians turned up to the assembly on Wednesday. Political groups have boycotted sessions in recent weeks and blamed each other for the deadlock.
Some of Lebanon's deepest political divisions come over the handling of the Syrian crisis, which has driven over 1 million refugees into Lebanon.
Politicians from the March 8 coalition, which includes Shi'ite Muslim group Hezbollah, support Syrian President Bashar al-Assad. The rival March 14 coalition backs Assad's opponents.
Even though speaker Berri is a member of the march 8 alliance , he has been working closely with Jumblatt , who is now a centrist to try to end the deadlock.
The deadlock comes at a time of worsening security. Three suicide bomb attacks late last month targeted Beirut and a checkpoint on the road to Syria. The Syrian crisis and the political stalemate have also hit the Lebanese economy, prompting the central bank to introduce stimulus packages.
Prime Minister Tammam Salam's government has taken over some presidential duties until a new president is chosen.
The presidency was once the leading political office in Lebanon, but that power was eroded under the agreement which ended the country's civil war, handing greater influence to the speaker  and prime minister.