Abu Bakr al-Baghdadi presents himself at Mosque as caliph Ibrahim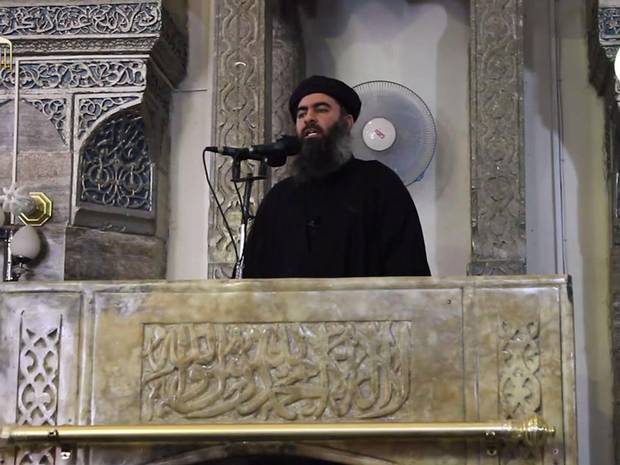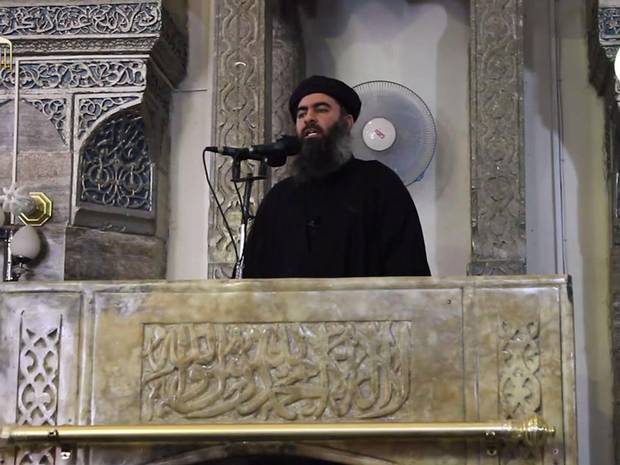 Abu Bakr al-Baghdadi, the leader of the Islamic State, emerged from the shadows to lead Friday prayers at Mosul's Great Mosque this week, the first time the notoriously secretive jihadi has made such a public appearance.
The head of the jihadist group chose the first Friday prayer service of Ramadan to make an audacious display of power in the city that the Sunni Islamists have now controlled for three weeks.
Speaking from the balcony of the mosque, al-Baghdadi urged the world's Muslims to flock to the Islamic caliphate across Syria and Iraq declared by his organisation last week.
Under his direction, the Islamic world would be returned to "dignity, might, rights and leadership", announced the self-anointed "Caliph Ibrahim".
"I am the wali (leader) who presides over you, though I am not the best of you, so if you see that I am right, assist me," he said, dressed in a black turban and robe.
"If you see that I am wrong, advise me and put me on the right track, and obey me as long as I obey God in you."
Al-Baghdadi hailed the jihadi "victory" which he said had restored the caliphate after centuries.
"God gave your mujahedeen brothers victory after long years of jihad and patience… so they declared the caliphate and placed the caliph in charge," he said.
"This is a duty on Muslims that has been lost for centuries."
In the speech – which spread rapidly across jihadi websites with translations in multiple languages, al-Baghdadi also discussed practical matters pertaining to the caliphate. He called for doctors, judges, engineers and experts in Islamic jurisprudence to join the cause.
It was a bold move from a man who has turned his breakaway al-Qaeda faction, until recently known as Isis, into the world's richest terrorist group but all the while carefully kept himself out of the public view.
There are only two known photographs of al-Baghdadi, one dating from his 2005-2009 imprisonment in a US detention camp in Iraq. On his release, to be handed over to Iraqi control, he reportedly remarked to US officials: "I'll see you in New York". And with that parting shot, he disappeared from sight – until now.
His appearance in Mosul came just as Iraqi officials claimed that he had been severely injured in a raid by government forces in Anbar province and had since fled to Syria. The decision to come out of hiding may have been aimed at disproving such claims, as well as at demonstrating the might of the Islamic State in the territories it has wrested from Baghdad's control.
On Saturday, leading Sunni Muslim scholar Yusef al-Qaradawi denounced the Islamic State's declaration of a caliphate, saying that it was in violation of sharia law.
Mr al-Qaradawi, a Qatar-based scholar who is regarded as a spiritual guide of the Muslim Brotherhood in his native Egypt, said in a statement that the declaration had "dangerous consequences" for Iraqi Sunnis and the conflict in Syria.
"We look forward to the coming, as soon as possible, of the caliphate," he said, referring to the form of pan-Muslim government last seen under the Ottoman Empire.
"But the declaration issued by the Islamic State is void under sharia and has dangerous consequences for the Sunnis in Iraq and for the revolt in Syria," he added.
He said the declaration, and the nomination of al-Baghdadi as caliph, by a group "known for its atrocities and radical views" fail to meet strict conditions dictated by sharia law.
The title of caliph, he said, can "only be given by the entire Muslim nation", not by a single group.
Since last Sunday, other leading Muslim figures have queued up to denounce the declaration by the Islamic State, which was previously known as the Islamic State of Iraq and al-Sham (Isis).
Al-Azhar, the most senior authority of Sunni Islam, "believes that all those who are today speaking of an Islamic State are terrorists," a representative, Sheikh Abbas Shuman, told AFP earlier this week.
"The Islamic caliphate can't be restored by force. Occupying a country and killing half of its population… this is not an Islamic state, this is terrorism," he said.
Rebels in Syria, who have turned on the jihadists that hijacked the uprising against Bashar al-Assad and appalled many by their brutality, have branded the caliphate announcement as "null and void".
Jordanian Al-Qaeda cleric Issam Barqawi, known as Abu Mohammed al-Maqdessi, also denounced it, warning it will only lead to more violence.
The Telegraph