Explosion rocks Duroy hotel in Beirut during security raid | Pictures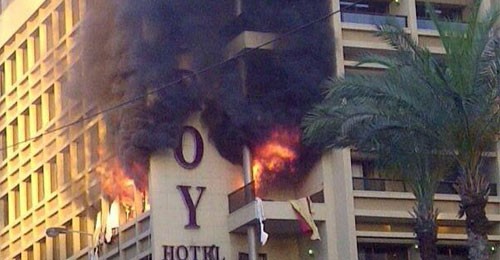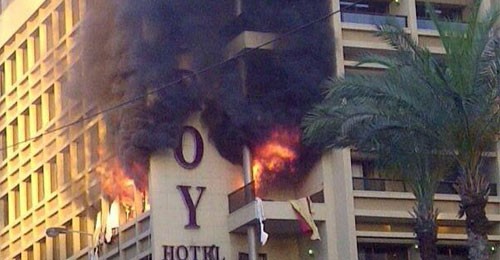 A suspect blew himself up in his room as Lebanese security forces raided his hotel in central Beirut on Wednesday, sending flames and a dark cloud of black smoke billowing out of the third-floor windows, security officials said.
There was no immediate word on casualties from the explosion that occurred inside the Duroy Hotel in the Raouche district, a well-heeled neighborhood that borders the Mediterranean Sea.
An official in the general security department said security forces were raiding the hotel when the suspect on the 4th floor detonated explosives in his hotel room. The official spoke on condition of anonymity in line with regulations.
Damage appeared to be confined to the third and fourth floors of the hotel. The explosion started a fire on the third floor, and thick black smoke billowed above the hotel as fire engines struggled to contain the blaze.
Lebanese troops sealed the area around the hotel as armed gunmen fanned out on the street.
The general security official said the raid at the Duroy hotel was part of ongoing efforts to pursue suspected militants in Lebanon. He spoke on condition of anonymity because he was not authorized to brief journalists.
The explosion is the second to hit the Lebanese capital in days. A suicide bomber blew himself up near a checkpoint outside a cafe just after midnight on Monday.
Update
Judge Saqr saar who arrived at the scene to investigate the explosion told reporters that 3 Lebanese Internal security members were injured as a result of the explosion.
He said the Internal security forces were able to prevent the first suicide bombings but not the second. Both are reportedly Saudi nationals.
One of the wounded Internal security forces members was identified as Captain Tarek al Dika
Update 2
The Baalbeck  free Sunni brigade  took responsibility for the suicide bombing at the Duroy hotel in Beirut and said in on twitter  that other mujahideen are safe  outside the hotel.
The organization said " our  mujahideen will not have mercy on Hezbollah  nor the Crusader army "
Update 3
The Lebanese Red Cross reported that 11 people were injured in the explosion 7 civilians and 4 Internal security members
More pictures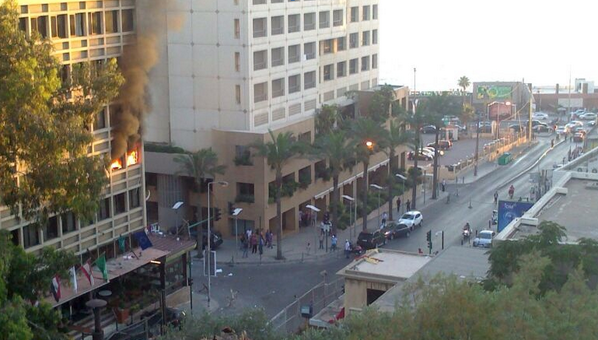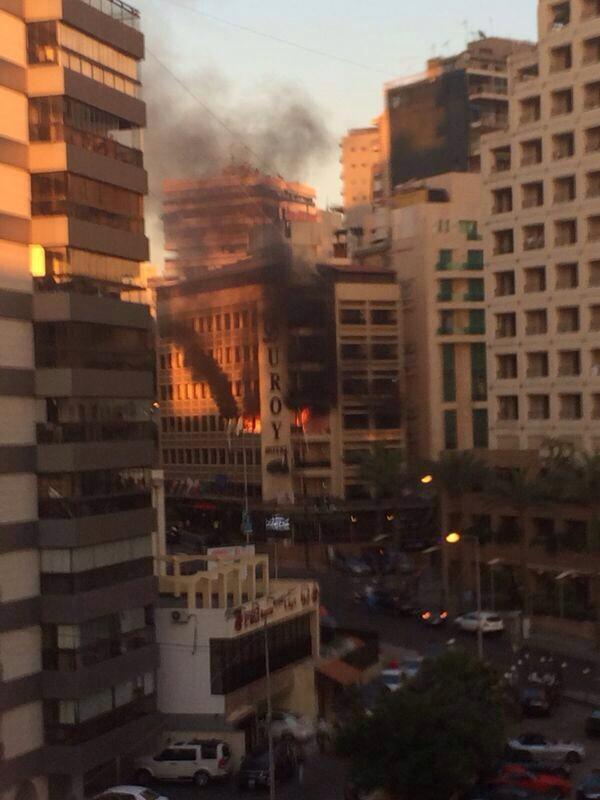 The Associated Press