Iraq crisis: Obama links US military aid to political consensus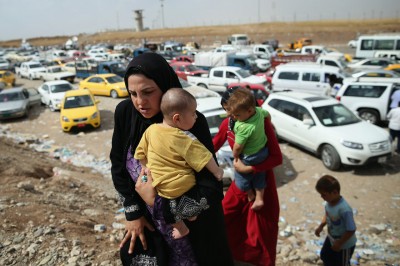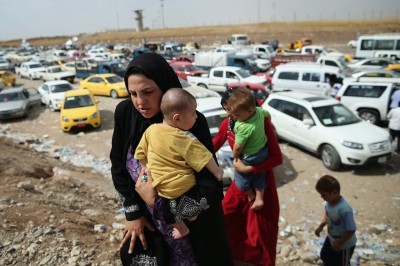 As Sunni militants seized two strategically-located towns in western Iraq, President Barack Obama said the country's leaders must come up with an inclusive political solution to the crisis and reiterated his belief that military action would be futile without a consensus that rises above sectarian motivations.
Obama said that without political consensus, "no amount of American firepower" would "be able to hold the country together".
In the US, ANSWER, an anti-war group, said it planned to hold rallies on Saturday in cities including Los Angeles, Chicago and Washington.
Thousands of heavily-armed Shia militiamen paraded through several Iraqi cities on Saturday, while Sunni militants appeared to have launched a new offensive in Anbar province, dealing a blow to prime minister Nouri al-Maliki'sgovernment by capturing the towns of Qaim and Rawah, near the Syrian border.
Secretary of state John Kerry will travel to the region on Sunday as the Obama administration steps up its attempts to encourage Iraq's leaders to find a political solution, which could see a new government formed, potentially without Maliki at the top.
"We gave Iraq the chance to have an inclusive democracy, to work across sectarian lines to provide a better future for their children and unfortunately what we've seen is a breakdown of trust," Obama told CNN in interview excerpts broadcast on Friday night.
"There's no doubt that there has been a suspicion for quite some time now amongst Sunnis that they have no access to using the political process to deal with their grievances, and that is in part the reason why a better-armed and larger number of Iraqi security forces melted away when an extremist group, Isis, started rolling through the western portions of Iraq.
"Part of the task now is to see whether Iraqi leaders are prepared to rise above sectarian motivations, come together, compromise. If they can't there's not going to be a military solution to this problem … there's no amount of American firepower that's going to be able to hold the country together and I've made that very clear to Mr Maliki and all the other leadership inside of Iraq … they don't have a lot of time."
Obama announced on Thursday that up to 300 military "advisers" from US special operations forces were being sent to Iraq to help the army counter the advance of a Sunni insurgent group, the Islamic State of Iraq and the Levant, known as Isis. He has so far resisted Baghdad's request for immediate US air strikes.
The Iraqi government is struggling to repel Islamic extremists and militants who have seized large parts of the north of the country, including Mosul, the country's second-largest city. In Baghdad, Amarah and Basra, thousands of heavily-armed followers of the Shia cleric Muqtada al-Sadr have staged parades. Sadr once led a militia that fought US troops and was blamed for some of the mass killings of Sunni civilians during sectarian fighting that peaked in 2006 and 2007.
Police and army officials told the Associated Press that Isis and allied militants took Qaim and its border crossing after killing about 30 Iraqi troops on Friday, and that people were now crossing freely between Syria and Iraq. Control of crossings allows militants to move weapons and equipment to different battlefields more easily.
Speaking to CBS, in another interview due to be broadcast in full on Monday, the president denied that the power vacuum that opened up in Syria and helped spur the growth of Isis was a result of the US not backing rebels fighting president Bashar al-Assad last year.
"When you get farmers, dentists and folks who have never fought before going up against a ruthless opposition in Assad," he said, "the notion that they were in a position to suddenly overturn not only Assad but also ruthless, highly trained jihadists if we just sent a few arms is a fantasy."
Grand Ayatollah Ali al-Sistani, a highly-respected voice for the Shia majority, said through a representative on Friday that Maliki should reach out to Iraq's Kurdish and Sunni minorities, calling for a dialogue between the political coalitions that won seats in April's parliamentary election that would lead to "an effective government that enjoys broad national support" and "avoids past mistakes".
The United Nations' refugee agency said on Friday that more than a million Iraqi people have been driven from their homes this year by conflict, prompting a developing humanitarian crisis.
Obama gave interviews to CNN, CBS and MSNBC on Friday. They will air in full on Monday, to herald his convening of The White House Summit on Working Families, which aims to address a range of workplace issues including low-wage workers and equal pay for women.
The Guardian