US linking future Egypt aid to adoption of moderate policies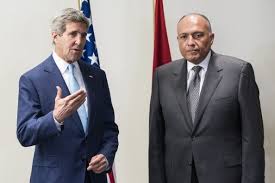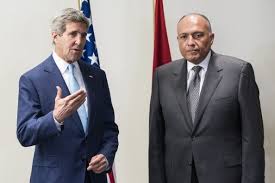 The United States, seizing on Egypt's weak economy and shaky security, is seeking to convince its new president to embrace more moderate policies to achieve stability — and deliver more American aid.
In the few weeks since President Abdel Fattah el-Sissi officially took office, U.S. officials say they have seen some small encouraging signs that he is prepared to protect his people's rights, including issuing severe penalties for sexual assault against women and freeing a jailed journalist.
But Washington remains concerned about the Egyptian government's widespread crackdown against the Muslim Brotherhood, which el-Sissi ousted from power last July when he was serving as the nation's army chief. And Egyptians frustrations with the U.S. have grown in recent months, spurred by Washington's reluctance to release hundreds of millions of dollars in aid to help bolster the country's security.
U.S. Secretary of State John Kerry arrived in Cairo on Sunday to meet with el-Sissi in the highest-level American visit since the new president took office this month after winning election in May.
"Obviously this is a critical moment of transition in Egypt, enormous challenges," Kerry said at the start of a meeting with Egyptian Foreign Minister Sameh Shoukry. Kerry said the U.S. hopes to work closely with el-Sissi despite what he called "issues of concern."
Shoukry said he looked forward to a "fruitful discussion."
The Brotherhood, an Islamist political organization, has responded with protests that have turned into violent clashes between demonstrators and government security forces. Egypt is also facing a growing jihadi threat in the Sinai Peninsula, where militants are thriving on a flood of heavy weapons that are easily smuggled in from Libya.
Taken together, the security problems have contributed to a severe slowing of Egypt's tourism industry that began in early 2011 when a popular uprising overthrew its longtime leader, President Hosni Mubarak. In 2012, and with the Muslim Brotherhood's backing, Mohammed Morsi was elected president in Egypt's first democratic vote. He was overthrown by el-Sissi almost exactly a year later.
U.S. officials say they now see an opportunity to guide Egypt toward a more inclusive government that Washington believes will help stabilize the country by curbing the violence and, in turn, attracting tourists to boost its economy.
Kerry's visit signals an attempt by the U.S. to thaw its decades-long relationship with Egypt, which has bristled at the American criticism and refusal to release hundreds of millions of dollars in military aid that Cairo has come to depend on over the years.
Earlier this month, the U.S. quietly agreed to send an estimated $572 million to Cairo in military and security assistance on top of $200 million in economic aid that was already delivered. But Egypt is still calling for the U.S. to send the rest of its annual $1.5 billion in aid, most of it for the military, which has been suspended until Washington believes Cairo is committed to democracy.
In a column published as Kerry arrived, prominent writer Hamdy Rizk called on Egyptians to boycott the U.S. Embassy's upcoming July 4 celebration and suggested that the aid delays were tied to Obama administration support for the Muslim Brotherhood.
"The Egyptians are really angry at the Obama administration," Rizk wrote. "Reducing aid to Egypt recently is not an austerity measure as the Brotherhood-stricken administration alleges. They are punishing the Egyptians for bringing down the American spy of Mohammed Morsi, and for selecting a nationalist leader who believes in the independence of national decisions. They are hurting the Egyptian economically."
Highly critical columns of the U.S. administration, particularly by pro-government writers, are a common trait in Egyptian-American relations but the media attacks against Washington have increased in tone and intensity in the past years of turmoil.
A senior State Department official traveling with Kerry said the U.S. remains concerned about several of Egypt's hard-line policies — including outlawing the Muslim Brotherhood as a terrorist organization, sentencing hundreds of people to death in trials lasting only a few hours and jailing journalists — and is urging el-Sissi to build a more inclusive government. That largely means lifting the ban on the Brotherhood and allowing it to participate in the country's political process.
The State Department official said most of the other worrisome policies were shaped by what he described as a polarizing political environment in Egypt since the political overhaul last July. The official briefed reporters on the condition of anonymity because he was not authorized to discuss the diplomatic issues by name.
The official said the security threat and the economic downturn have prompted Egyptians to re-think the direction their country is headed, which is why the U.S. sees an opportunity now to push el-Sissi toward moderation.
Kerry plans to stay in Cairo for only a few hours before heading to Amman, Jordan, where he will meet with government leaders there to discuss the bloody insurgency and political crisis in neighboring Iraq.
While in Cairo, Kerry also plans to meet with Arab League Secretary General Nabil el-Araby and leaders of Egypt's civil rights group
TIME