Iran's Khamenei warns against US intervention in Iraq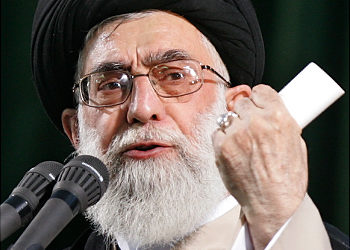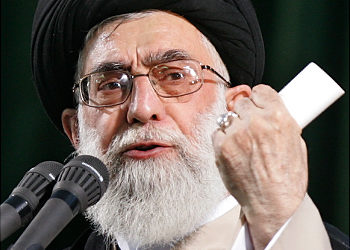 Iran's supreme leader has condemned US intervention in Iraq, accusing Washington of seeking control as Sunni insurgents consolidated positions in the north and west.
The statement by Ayatollah Ali Khamenei was the clearest statement of opposition to a US plan to dispatch up to 300 military advisers in response to pleas from the Iraqi government.
It also runs counter to speculation that old enemies Washington and Tehran might cooperate to defend their mutual ally in Baghdad.
"We are strongly opposed to US and other intervention in Iraq," IRNA news agency quoted Mr Khamenei as saying.
"We don't approve of it as we believe the Iraqi government, nation and religious authorities are capable of ending the sedition."
The Iranian and the US governments had seemed open to collaboration against the Islamic State in Iraq and Syria (ISIS), which is fighting both the US-backed, Shiite-led government of Iraq and the Iranian-backed president of Syria, whom Washington wants to see overthrown.
"American authorities are trying to portray this as a sectarian war, but what is happening in Iraq is not a war between Shiites and Sunnis," said Mr Khamenei, who has the last word in the Islamic Republic's Shiite clerical administration.
Accusing Washington of using Sunni Islamists and followers of ousted Iraqi leader Saddam Hussein, he added: "The US is seeking an Iraq under its hegemony and ruled by its stooges."
Tehran and Washington have been shocked by the quick offensive spearheaded by ISIS that has seen large swathes of northern and western Iraq fall to the hardline extremist group and other Sunni fighters since June 10, including the north's biggest city Mosul.
The Sunnis are united in opposition to what they see as Shiite prime minister Nouri al-Maliki's divisive sectarian rule.
ISIS seizes three more towns
ISIS thrust east from a newly captured Iraqi-Syrian border post on Sunday (local time), taking three towns in Iraq's western Anbar province after seizing the frontier crossing near the town of Al Qaim a day earlier.
The gains have helped ISIS secure supply lines to Syria where it has exploited the chaos of the uprising against president Bashar al-Assad to seize territory.
ISIS aims to create an Islamic caliphate straddling the desert border and has held Falluja, just west of Baghdad, since the start of the year.
Its latest gains included the towns of Rawa, Ana and Rutba in the western Anbar province.
A military intelligence official said Iraqi troops had withdrawn from Rawa and Ana after ISIS militants attacked the settlements.
"Troops withdrew from Rawa, Ana and Rutba [Sunday] morning and ISIS moved quickly to completely control these towns," the official said.
"They took Ana and Rawa without a fight."
Military spokesman Major-General Qassim al-Moussawi said the withdrawal from the towns was intended to ensure "command and control" and to allow troops to regroup and retake the areas.
"The withdrawal of the units was for the purpose of reopening the areas," he told reporters in Baghdad.
40 reportedly killed in air strikes
The towns are on a strategic supply route between ISIS's positions in Iraq and in eastern Syria.
The last major Syrian town not in ISIS's hands in the region – the border town of Albukamal – is controlled by the Nusra Front, Al Qaeda's branch in Syria which has clashed with ISIS but also agreed to local truces at times.
ISIS fighters also attacked the town of Al Alam, north of Tikrit, but were repelled by security forces and tribal fighters, witnesses said.
State television reported that "anti-terrorism forces" in coordination with the air force had killed 40 ISIS members and destroyed five vehicles in fighting in Tikrit, home town of former dictator Saddam Hussein.
On Saturday, about 20,000 armed men marched through Sadr city in eastern Baghdad in a parade called for by powerful cleric Moqtada al-Sadr as a show of force aimed at ISIS.
They carried rocket-propelled grenades and rifles, while trucks were mounted with long-range rockets including the new three-metre Moqtada 1 missile, named after Mr Sadr.
Mr Sadr has yet to throw his fighters into the recent wave of fighting but has criticised Mr Maliki for mishandling the crisis.
The sectarian mobilisation was not confined to Baghdad. Shiite militia staged similar parades further south in the cities of Amara and Basra.
Iraq conflict in maps
Just two years after the withdrawal of US troops, Iraq has again been plunged into sectarian-fuelled violence and chaos.
Terrorist group ISIS (Islamic State of Iraq and Syria) has routed the Iraqi army in the north of the country and seized the country's second largest city.
The country, which was invaded by a coalition led by the US in 2003, has been riven along religious and ethnic lines for the past decade and faces an uncertain future.
At the heart of the conflict is distrust between the two branches of Islam in the country – Sunni and Shia – a divide replicated throughout the Middle East.
ABC