Russia accused of destroying Ukraine as it cuts gas supplies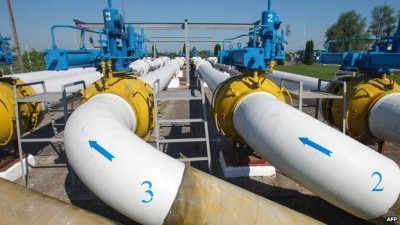 Ukraine says Russia has cut off all gas supplies to Kiev, in a major escalation of a dispute between the two nations.
"Gas supplies to Ukraine have been reduced to zero," Ukrainian Energy Minister Yuri Prodan said.
Russia's state-owned gas giant Gazprom said Ukraine had to pay upfront for its gas supplies, after Kiev failed to settle its huge debt.
Gazprom had sought from Kiev $1.95bn (£1.15bn) – out of $4.5bn it says it is owed – by 06:00 GMT.
The company said it would continue to supply gas to Europe, although Gazprom chief Alexei Miller warned that there now were "not insignificant" risks for gas transit to the EU via Ukraine.
Russia-Ukraine ties remain tense since Moscow annexed Crimea in February.
Kiev says Moscow backs separatists in the east of the country. Russia denies the charge.
In other developments:
pro-Russian gunmen have seized the regional treasury in the eastern city of Donetsk, potentially disrupting payments of pensions and other social benefits
Ukraine's National Bank building in the city has been captured by separatists, reports say
'Blackmail'
On Monday morning, Gazprom said in a statement: "Today, from 10:00 Moscow time, Gazprom, according to the existing contract, moved Naftogaz to prepayment for gas supplies.
"From today, the Ukrainian company will receive Russian natural gas only in the amounts it has paid for."
Moments later, both Gazprom and Ukraine's state-owned Naftogaz company filed lawsuits against each other in the Stockholm international commercial arbitration court.
Gazprom said it wanted to recover $4.5bn from Naftogaz, which is dealing with gas supplies to Ukraine. Meanwhile, Naftogaz said it was seeking to recover $6bn in "overpayment" for gas since 2010.
Russian Prime Minister Dmitry Medvedev said Ukraine's position on the issue "smacks of blackmail".
Meanwhile, Ukrainian Prime Minister Arseniy Yatseniuk accused Moscow of deliberately blocking the deal to cause supply problems in Ukraine in the winter.
"It is not about gas. It is a general Russian plan to destroy Ukraine. It is yet another step against the Ukrainian state and against Ukrainian independence."
The latest moves follow crisis talks between Ukraine, Russia and the EU on the issue.
"We reached no agreement. The chances that we meet again are slim," Gazprom spokesman Sergei Kuprianov said after the latest round of the talks ended in Kiev over the weekend.
However, EU Energy Commissioner Guenther Oettinger, who attended the talks, said he was "not pessimistic" about a deal.
He said he would continue to work for an agreement despite his compromise proposal, that Kiev pay $1bn on Monday and the rest in instalments, being rejected by Gazprom.
Mr Oettinger later added that Ukraine intended to fill its gas transit commitments to the EU and he was also confident that Russia would meet its gas supply pledges to Europe.
On Monday, Gazprom stressed that it would continue to supply European consumers with gas at "full volume" and that it was Ukraine's responsibility to make sure the gas transited through the country.
However, correspondents say the EU could be affected.
About 15% of the EU's gas supply is Russian gas which is piped through Ukraine.
Embassy protests
Ukraine's discounted rate for gas was axed in April after Moscow accused Kiev of failing to pays its bills.
Earlier this month, Gazprom gave Ukraine more time to settle its gas bill after receiving a part-payment of $786m.
Ukraine said it refused to clear its debts completely in protest at Gazprom's recent 80% price increase.
Gazprom ended its discount price for Ukraine, which was negotiated by former President Viktor Yanukovych last December, in April.
Before the discount was cancelled, Ukraine's gas bill was heavily reduced by Russia to $268 per 1,000 cubic metres. The price is now $485.50 per 1,000 cubic metres.
Kiev had earlier said it was ready to make the $1.95bn payment if Russia cut its price to $326 per 1,000 cubic metres.
But Russian President Vladimir Putin said $385 per 1,000 cubic metres was his final offer.
Prospects of a breakthrough in discussions were diminished in recent days after increasing tension between Kiev and Moscow over the pro-Russian insurgency in the east of Ukraine.
Moscow reacted angrily to a violent protest outside its embassy in Kiev on Saturday after separatists shot down a Ukrainian military plane in the east, killing all 49 people on board.
Ukraine accused Russia of sending tanks across the border to support the separatists.
BBC