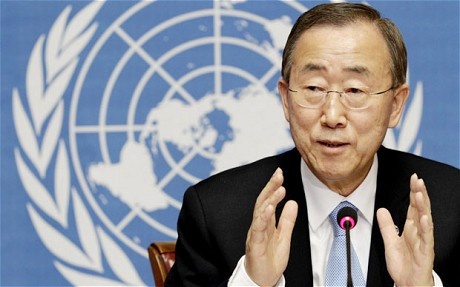 SantaCruz De La Sierra, Bolivia: UN Secretary General Ban Ki-moon on Saturday opened a Group of 77 plus China summit in Bolivia, with developing countries calling for a more fair new world economic order.
Ban spoke to a vast audience that included some 30 heads of government and representatives of more than 100 nations, about two-thirds of the world's countries.
The destiny of billions of poor people and the state of the planet depends on their work, Ban told the group.
Dignitaries at the event include the presidents of Venezuela, Ecuador, Cuba and host nation Bolivia.
China, which is not a G77 member, is participating in the summit, partly in a nod to its expanding trade ties in Latin America, although President Xi Jinping will not attend.
Leaders at the summit are pressing a "fight for fair and sustainable economic growth, and for a new world economic order," said Venezuelan President Nicolas Maduro.
Ecuador's President Rafael Correa slammed the current global economic system as morally flawed.
"Only when we are united across Latin America and united around the world, will we be able to make our voice heard and change an international order that is not just unfair – it is immoral," Correa said.
Cuban President Raul Castro, meanwhile, warned that Havana's closest ally Venezuela needed support amid fallout from deadly anti-government protests.
"Venezuela today needs our staunchest support," Castro, 83, said in a rare international speech.
Cash-strapped Havana still has a centrally planned economy and cannot get access to international loans, and Venezuela supplies it with cut-rate oil.
"This summit is not purely commemorative, it will propose new social policies," said Bolivian President Evo Morales, a leader of Latin America's hard left and the group's current president.
The summit closes on Sunday with a document that Bolivia's Vice President Alvaro Garcia described as "the first draft of the post Millennium Development Goals," a set of UN goals that are approaching their 2015 expiration date.
Hammered out in previous meetings, the G77 document sets forth ambitious new commitments to reduce poverty and inequality, foster sustainable development, protect sovereignty over natural resources and promote fair trade and technology transfers.
The world is still well short of fulfilling the original eight Millennium goals, which include a call to halve the number of people living in extreme poverty.
Beijing is represented by Chen Zhu, a vice chairman of China's National People's Congress.
Chen met with Morales ahead of the summit opening, and pledged an $80 million loan to modernise Bolivian airline BOA and purchase four new aircraft, Bolivia said.
With massive purchases of commodities and exports of its manufactured goods to the region, China in recent years has emerged as a main trade partner of many Latin American countries.
Iran's Vice President Eshaq Jahangiri pledged during a separate meeting with Morales a $200 million line of credit for "health, the pharmaceutical industry and agriculture."
The summit marks the 50th anniversary of the group's founding. It has grown from 77 developing countries to 133 countries.
Gulf News