Ukraine president calls for new sanctions against Russia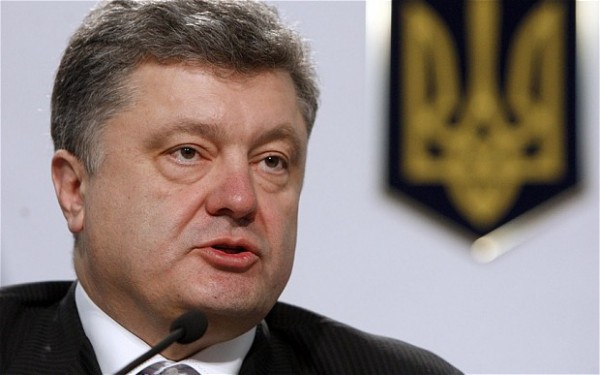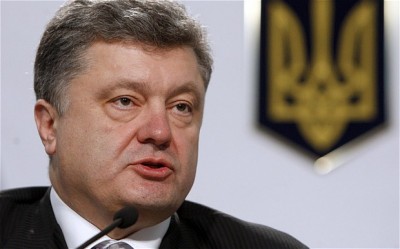 Ukraine's new president called on the west to impose fresh sanctions on Russia as he declared Sunday a day of mourning for the 49 people killed when separatist rebels shot down a military aircraft.
Kiev said 40 soldiers and nine crew died on Saturday when the IL-76 transport plane was brought down by anti-aircraft fire as it attempted to land in the separatist-controlled city of Luhansk,
The incident came one week after Petro Poroshenko became president and marks the single largest loss for Ukrainian forces since April when they launched a crackdown on separatists in the breakaway Luhansk and Donetsk regions.
In an address to the nation late on Saturday, Mr Poroshenko said he had given Ukraine's armed forces the task of taking control of the border with Russia, "through which terrorists are receiving arms, vehicles, backing and money".
As relations between Moscow and Kiev deteriorated further, a deadline loomed to avoid Russia cutting off gas supplies to Ukraine, threatening to erupt into a third "gas war" in eight years and potentially disrupting the flow of Russian gas to European markets through Ukraine.
The downing of the aircraft comes amid warnings from the US and EU that Russia could face further economic sanctions if it fails to stop funnelling arms to pro-Russian separatists in eastern Ukraine
In a telephone conversation with French President François Hollande on Saturday, Mr Poroshenko said he hoped the EU would punish Russia economically with "sectoral sanctions" if it failed to stop destabilising eastern Ukrainian regions by supplying arms and rebels.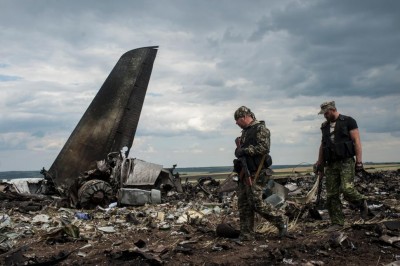 Mr Hollande and German chancellor Angela Merkel in a joint call to Russian President Vladimir Putin urged Moscow to strengthen border controls with Ukraine to block the passage of arms and equipment. Their demand came after Ukraine claimed separatists had secured three Russian tanks.
This weekend Nato released satellite images backing up Ukraine's claims over Russia's role in supplying tanks to rebels.
Herman Van Rompuy, the European Council president, said in a statement: "There is … no doubt that the armed fighters that are terrorising and disrupting the lives of citizens in Ukraine, are enjoying external support, including arms supply and reinforcement through foreign fighters,"
He added "As a neighbouring state, Russia bears a primary responsibility in ensuring that any such traffic and external support through its borders is immediately stopped".
A White House spokeswoman said "we condemn the shooting down of the Ukrainian military plane and continue to be deeply concerned about the situation in eastern Ukraine, including the fact that militant and separatist groups have received heavy weapons from Russia, including tanks, which is a significant escalation."
In Kiev on Saturday, angry protesters vented their anger over the latest incident by throwing eggs and later bricks at the Russian embassy, smashing many of the building's windows. They overturned and later tore apart three cars belonging to diplomatic staff while also defacing a gate on the building with anti-Putin graffiti.
The Russian foreign ministry expressed "extreme indignation" at what it described as "provocative actions of fascist thugs". "With the Ukrainian authorities irresponsibly standing by, an attack was carried out on the Russian embassy, and the Russian flag was desecrated," it said.
Russian politicians on Sunday called for Mr Poroshenko to fire Andriy Deshchytsia, foreign minister, for joining protestors outside the Russian Embassy in Kiev in calling Mr Putin a "dickhead" while urging them not to vandalise the building.
Financial Times