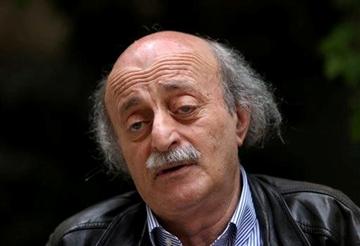 Progressive Socialist party leader MP Walid Jumblat warned in an Interview on Tele Liban on Wednesday that now more than ever the fate of the country is to be part of the Syrian-Iranian axis that Lebanon cannot tolerate being under the grip of such an axis.
Jumblatt said the " Islamic Republic ( Iran) is scoring politically and militarily on Syrian territories through the fall of Homs, which is a passage between the Mediterranean and Iran. Through (Homs') fall, the Islamic Republic took control over Syria to a certain extent, or it divided it into two parts."
Commenting on Hezbollah's role in Syria Jumblatt said:
"We are with the resistance's presence but only to defend Lebanon. FormerMichel President Suleiman tried to distance Lebanon from the Syrian civil war through the Baabda Declaration but the decision of the resistance to go to Syria was not made in Lebanon but in Iran ."
Commenting on Hezbollah's attacks against Suleiman he said.
"Suleiman was insulted and had great patience. We must wait for a regional moment that allows us to rule ourselves."
Commenting on presidential elections and the possible candidates , Jumblatt reiterated that he will not vote for either FPM leader MP Michel Aoun or Lebanese Forces leader Samir Geagea .
He said he is sticking with his candidate Henri Helou because , like Suleiman he is committed to the Baabda declaration .
In response to his opinion about army chief General Jean Kahwaji he said :
"We would be limiting the presidency exclusively to military figures, and then we would be saying that there is no qualified civilian among the Maronite political figures."
Commenting on Hezbollah dependence on Syria for a political solution he said:
" (Hezbollah chief Sayyed Hassan) Nasrallah said there is no political solution without (Syrian President) Bashar (Assad) as if Bashar wants a political solution. He only cares about himself"
Jumblatt's concern about the Iranian Syrian axis is well founded according to Lebanese American observer Walid Phares who advises US members of Congress on the Middle East:
"The Tehran regime's minister of defense openly stated on April 16, 2014, that his country's real borders are along south Lebanon. Obviously, such Iranian bellicose declarations are a blow against the Lebanese republic's sovereignty." He said in an article in Al Arabiya on Wednesday and added
"Since the early 1980s, the Iranian revolutionary guards have penetrated the Mediterranean country with the help of Hafez al-Assad's regime (then) and—from scratch—created Hezbollah, pushing this terrorist organization to seize terrain gradually until it reached the international border between Lebanon and Israel. Tehran's recent declaration of "having a frontier in south Lebanon" is nothing but a natural consequence of its co-domination of this country with the Syrian regime."
This error message is only visible to WordPress admins
Error: No connected account.
Please go to the Instagram Feed settings page to connect an account.