"Crimea was, is, and will be Ukrainian": Poroshenko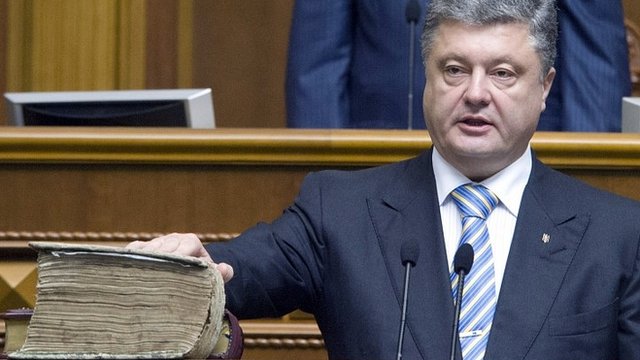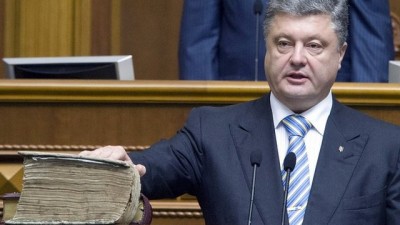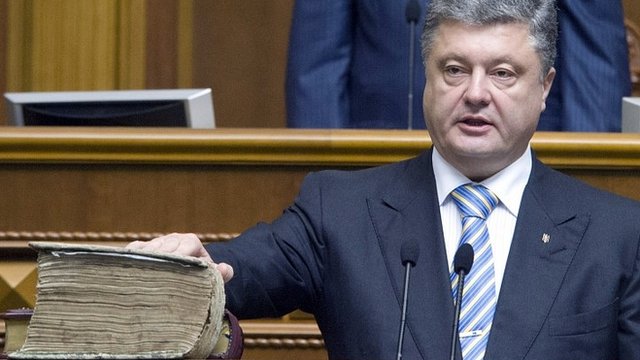 The Ukrainian president, Petro Poroshenko, has used his inaugural address to stress that the country would not give up Crimea, the Black Sea peninsula that Russia annexed from it in March.
In a combative speech on Saturday following his swearing-in, Poroshenko said: "Crimea was, is, and will be Ukrainian." He was greeted with a standing ovation.
He stressed the unity of Ukraine, which is fighting a pro-Russian separatist uprising in the east, and said it would not become a federalised state as advocated by Moscow.
Poroshenko also said he intended to sign the economic part of an association agreement with the European Union, as a first step towards full membership.
And the 48-year-old promised an amnesty "for those who do not have blood on their hands" in an apparent appeal to both separatist, pro-Russia insurgents and to the nationalist groups that oppose them. He said that he wanted neither war, nor revenge.
However, he sought to exclude the insurgents from a promise to open a dialogue with Ukraine's eastern citizens. "Talking to gangsters and killers is not our avenue," he said, according to a translator. He also called for early regional elections in the east.
His rise to office came a day after meeting Russian President Vladimir Putin at D-day commemoration ceremonies in France. But, despite the outreach to Putin, Poroshenko said he would not accept Russia's annexation of Crimea.
Speaking after his meeting with the Ukrainian president, Putin called for an immediate ceasefire in eastern Ukraine before any further talks, and said that he expected Poroshenko to show "state wisdom" and "goodwill".
The Russian president, who has denied allegations by Kiev and the west that Russia has fomented the rebellion in the east, said he welcomed Poroshenko's call for an end to the bloodshed and liked his approach to settling the crisis but wanted to wait until the Ukrainian leader could deliver it in detail to the nation.
Russia annexed Crimea in March after its troops took control of the Black Sea peninsula, which then held a secession referendum that Kiev and western states regard as illegitimate.
Poroshenko, a billionaire chocolate company owner, was elected on 25 May, three months after the pro-Russian president Viktor Yanukovych fled the country following months of street protests.
The Guardian