Over 60 killed in Iraq car bombings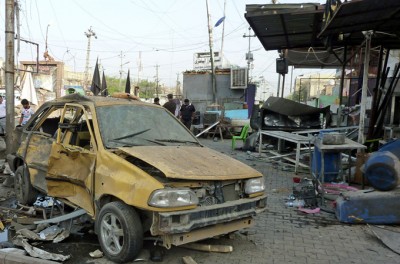 A wave of car bombs exploded across Baghdad on Saturday, killing more than 60 people, and militants stormed a university campus in western Iraq, security and medical sources said.
In total, there were a dozen blasts in mainly Shi'ite districts of the capital, the deadliest of which occurred in Bayaa, where a car bomb left 23 people dead, many of them young men playing billiards.
"I was about to close my shop when I heard a huge explosion on the main commercial street," said Kareem Abdulla, whose legs were still shaking from the shock. "I saw many cars set ablaze as well as shops".
Other bombs went off near a cinema, a popular juice shop and a Shi'ite mosque.
No group immediately claimed responsibility for any of the bombings, but the Shi'ite community is a frequent target for Sunni Islamist insurgents who have been regaining ground and momentum in Iraq over the past year.
Since Thursday alone, militants have seized parts of Ramadi and Falluja, the two main cities in the mainly Sunni Anbar province. On Saturday, they took control of the campus of Anbar University in Ramadi.
A member of the security and defense committee in parliament said the insurgency could not be quelled by force alone because the root cause was political. Critics of Iraq's Shi'ite-led government say its treatment of the once-dominant Sunni minority is the main driver of the insurgency.
"SECURITY WILL GET WORSE"
"The Iraqi government now relies on using force to solve things, that is why security will get worse," said Shwan Mohammed Taha, predicting that violence could spread to other Sunni-dominated provinces such as Diyala.
"This is not only deterioration, it is a failure to manage the security file."
Parts of Ramadi have been held by anti-government tribesmen and insurgents since the start of the year. Overnight, gunmen fought their way past guards into the university, planting bombs behind them.
The militants eventually allowed students and teaching staff to leave, but remained in control of the campus late on Saturday, exchanging fire with security forces.
A professor trapped inside the physics department told Reuters some staff who live outside Ramadi had been spending the night at the university because it was the exam period.
"We heard intense gunfire at about 4 a.m. We thought it was the security forces coming to protect us but were surprised to see they were gunmen," he told Reuters by telephone. "They forced us to go inside the rooms, and now we cannot leave."
Sources in Ramadi hospital said they had received the bodies of a student and a policeman.
The identity of the assailants was not clear. Ramadi and Falluja were overrun at the start of the year by tribal and Sunni insurgents, including the Islamic State in Iraq and the Levant (ISIL).
SUPPLY LINES
Security forces have regained control of central Ramadi, but the suburbs and outlying areas have swung back and forth between them and the militants. Falluja, around 50 km (30 miles) away, is still in insurgent hands.
One of the guards at the university said he believed the militants' real aim was to seize an area called Humaira behind the campus, which would allow them to set up supply lines between Ramadi and Falluja.
"I think the militants will withdraw as their target was not the university. They came to stay in Humaira, and we know how important it is for them," he said. "They want to be connected with their gunmen in Falluja".
Almost 480,000 people have been forced to leave their homes in Anbar over the past six months, according to the United Nations – Iraq's largest displacement since the sectarian bloodletting that climaxed in 2006-07.
Violence is still well below those levels, but last year was Iraq's deadliest since security began to improve in 2008. Nearly 800 people were killed across the country in May alone – the highest monthly toll this year so far.
On Thursday, militants moved into the city of Samarra in the adjacent province of Salahuddin and briefly occupied a university there as well as two mosques, raising ISIL's black banner until airstrikes forced them to retreat. [ID:nL6N0OM4EL]
The following day, insurgents fought Iraqi security forces in the northern city of Mosul. [ID:nL6N0ON4W6]
The head of Mosul morgue said the bodies of 59 civilians and 11 people had been brought in since Friday. Another source at the morgue said there were still corpses on the streets that could not be recovered because some districts of the city remained under militant control.
Reuters