Syrian regime claims turnout in presidential vote 73 percent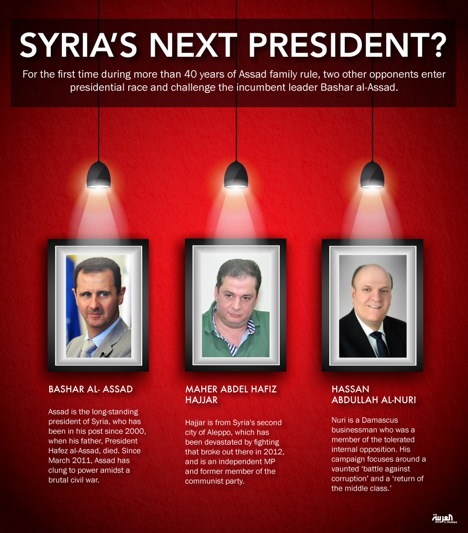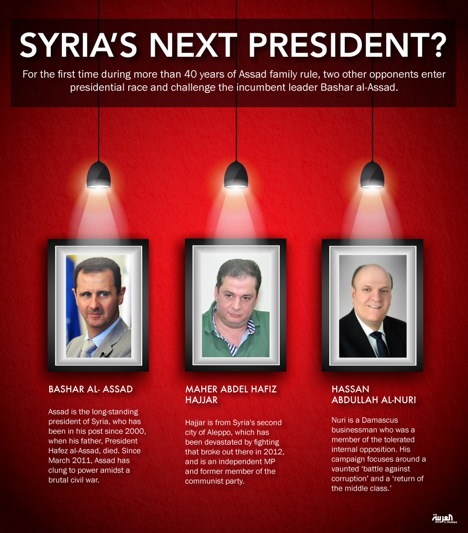 The head of Syria's Supreme Constitutional Court claimed turnout in the country's presidential election was 73.42 percent.
Majed Khadra says 11,634,412 out of a total of 15,845,575 eligible voters cast their ballots in Tuesday's polls.
Khadra says the court has handed the official election results to the speaker of parliament, who is responsible for announcing them. It was not immediately clear whether the results would be released later Wednesday.
The election was held only in government-held areas, excluding vast chunks of northern and eastern Syria that are under rebel control. The opposition and its allies have denounced the election as a farce.
U.S. Secretary of State John Kerry sharply who was in Lebanon on Wednesday criticized Syria's presidential vote as "a great big zero," and said it can't be considered fair "because you can't have an election where millions of your people don't even have an ability to vote."
Assad won
Assad won 88.7 percent of the vote in Syria's presidential election, parliament speaker Mohammad al-Laham said on Wednesday, securing a third term in office despite a raging civil war which grew out of protests against his rule.
"I declare the victory of Dr Bashar Hafez al-Assad as president of the Syrian Arab Republic with an absolute majority of the votes cast in the election," Laham said in a televised address from his office in the Syrian parliament.
Associated Press