Kerry: US deeply troubled by lack of Lebanese president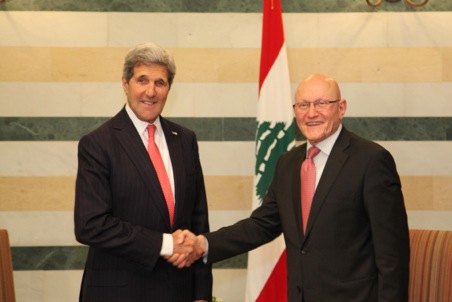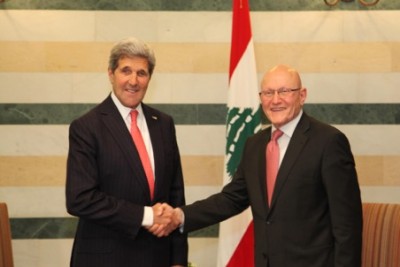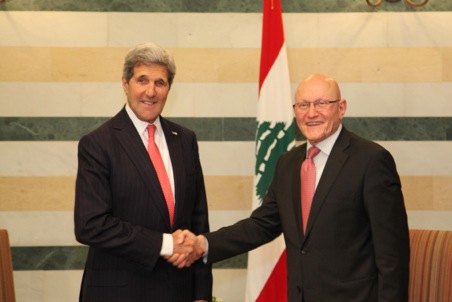 The political stalemate that has left Lebanon without a president at a turbulent time in the region is "deeply troubling," U.S. Secretary of State John Kerry said Wednesday. He also announced new aid to cope with the Syrian refuge crisis that has spilled over into its besieged neighbor.
Kerry said the United States would continue to support Lebanon, including its armed forces, but also urged a speedy resolution to the governing impasse.
Michel Suleiman's six-year term as president ended last month, but Lebanese politicians have failed to agree on a successor despite five parliament sessions over several weeks. Lawmakers allied with the militant Hezbollah group have boycotted the meetings.
Lebanon is accustomed to political crisis. It went for months without a president before Suleiman, a former army commander, was elected in 2008.
Under Lebanon's power-sharing system, the president must be a Maronite Christian, the prime minister a Sunni Muslim and the parliament speaker a Shiite Muslim.
"The current political stalemate here in Lebanon is deeply troubling. It is unfortunate the parliament did not elect a president on schedule, and now it is far more important for the vacancy to be filled," Kerry said.
"We need a government that is free of foreign influence with a fully empowered president and with the president and parliament responding to the needs of the Lebanese people." He added, "This is not a time for business as usual."
In announcing $290 million in U.S. aid for United Nations agencies that are working on the Syrian refugee issue throughout the region, Kerry called for countries and groups supporting President Bashar Assad's government to take action to end a civil war that has taken more than 160,000 lives.
"All of us, all nations have a responsibility to try to end this conflict, and I particularly call on those nations directly supporting the Assad regime in what has become a grotesque display of modern warfare against its own people," he said.
He singled out Iran, Russia and the Lebanon's Hezbollah movement to act "to bring this war to an end."
U.S. Secretary of State John Kerry singled out Iran, Russia and the Lebanon's Hezbollah movement to act "to bring the war in Syria to an end."
Lebanon, home to 4.5 million people, is struggling to cope with the presence of more than a million Syrian and Palestinian refugees in desperate need of housing, education and medical care.
Kerry is the first secretary of state to come to Lebanon in five years. Hillary Rodham Clinton visited in April 2009. Kerry traveled to Lebanon at least four times as a senator since 2006, the last time in November 2010.
The Lebanese are deeply split over the war in Syria and have lined up behind opposing sides. The deep divisions are among the reasons for the lack of agreement on a consensus candidate for Lebanon's next president.
The absence of a president is chiefly a setback for Lebanon's Christian community, whose influence has significantly waned since the country's 1975-90 war. It also erodes fragile institutions that keep the country of several Christian and Muslim sects together.
For a parliament to elect the president, a two-thirds quorum — 85 of the legislature's 128 members — is needed, but none of the sessions to choose Suleiman's successor has met that requirement.
Consensus has been nearly impossible. The Shiite group Hezbollah has been fighting alongside Assad's forces, while most Lebanese Sunnis broadly support the armed uprising to overturn his rule.
Suleiman was elected six years ago as a consensus president, but he became a harsh critic of Hezbollah's involvement in Syria and called on the group's fighters to withdraw from Syria.
ABC