Kerry arrived in Lebanon, headed for talks with PM Salam-update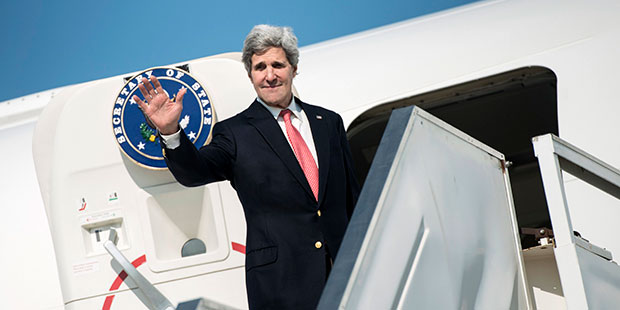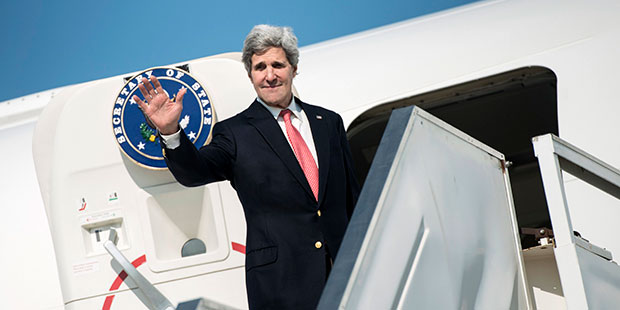 National News Agency reported that U.S. Secretary of State John Kerry has arrived in Beirut on Wednesday amid strict security measures.
He headed straight from the airport at the Grand Serail for talks with PM Tammam Salam.
A U.S. official told AFP that Kerry's visit to Beirut will represent a message of support to Lebanon which is facing political and social burdens due to the Syrian conflict.
AFP also quoted U.S. diplomatic source as saying " Kerry is in Beirut to announce $290 million in aid to boost U.N. efforts in Syria and neighboring countries hosting refugees.
Some $51 million of the funds, the largest chunk of the aid, will go to helping Lebanon, which now hosts the highest concentration of refugees as a percentage of population in the world, according to Reuters.
The influx of Syrian refugees has burdened public services and been a drag on the economy. Unlike some of Syria's other neighbours, Lebanon does not have formal refugee camps, leaving many families to find refuge within host communities.
More than $35 million of the additional funds will go to helping refugees in Jordan, $15 million to Turkey and the same amount to Iraq, while $4.5 million will support Egypt, the State Department said according to Reuters.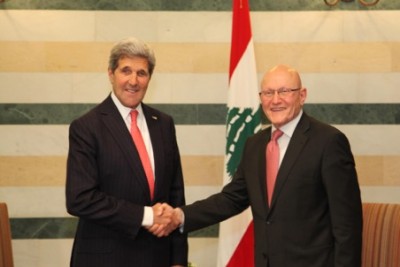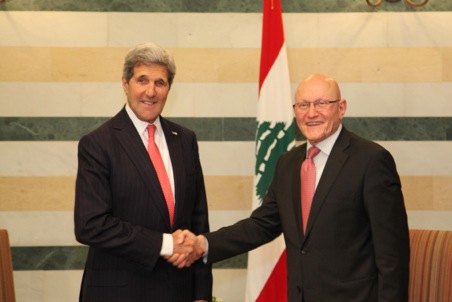 Kerry will also renew a commitment by the United States to develop the capabilities of the Lebanese army to secure its borders and restore calm in parts of the country.
Syria's civil war has added to disputes within Lebanon, especially over the Shi'ite movement Hezbollah's support for Assad, a fellow ally of Shi'ite Iran. Some Lebanese Sunnis have meanwhile joined Syria's rebels.
During the visit Kerry will also discuss plans by the United States to increase its support for moderate Syrian rebels, Reuters added.
According to the US state department Kerry will head to Paris from Beirut to attend meetings with President Obama before departing for Normandy to participate in commemorations marking the 70th anniversary of D-Day.
From Normandy, Kerry will travel to Saint Briac, France to pay tribute to three American servicemen killed in the Allied liberation of the town during World War II. He also will participate in a program saluting enduring U.S.-French military and diplomatic cooperation, and thanking townspeople who helped save his family's home in the community.
Meets Berri
While in Lebanon Kerry also met with Speaker Nabih Berri at his residence in Ain al Tineh neighborhood in Western Beirut.
NEW TV reported that Kerry left Ain al-Tineh without making any statement, but a statement issued later by Berri after talks with Kerry stated: 'The U.S. official reiterated Washington's stance that it does not have any candidate or any veto on anyone."