Amid fear and pressure Syrians vote in" blood elections"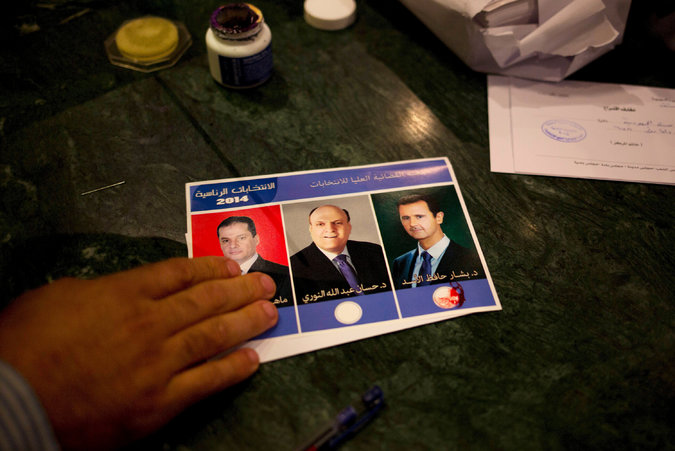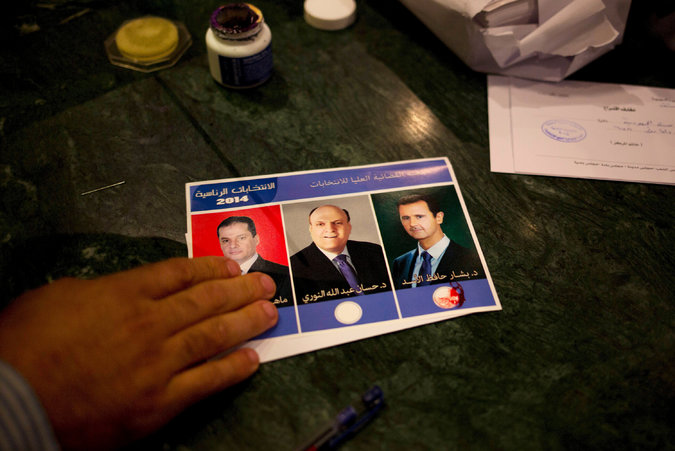 BEIRUT, Lebanon — Syrians lined up to vote Tuesday morning across government-controlled areas in a disputed ballot certain to hand President Bashar al-Assad another seven-year term amid a three-year insurgency and government crackdown. Opposition groups urged a boycott of what they called a "blood election."
Security was tight at more than 9,000 polling stations as some insurgent groups declared that anyone not remaining at home was a legitimate military target. State media said insurgents had stepped up shelling to frighten people into staying home, killing scores in the northern city of Aleppo on Monday.
But state employees in the capital, Damascus, speaking anonymously for fear of retribution, said that they had little choice but to vote, having received strict orders to show up for work and go to the polls or face questioning by security agencies.
University exams were scheduled on election day, compelling students to show up on campuses, where representatives from the governing Ba'ath Party would be sure to notice if they did not vote at polling stations there, a citizen journalist in the central city of Hama using the name Jassem al-Hamwe said over Skype.
Syrian state television showed Mr. Assad voting in Malki, the neighborhood in Damascus where he lives.
The election is Syria's first in more than five decades with more than one candidate. After Mr. Assad's father rose to power in 1970, he and later his son were re-elected in single-candidate balloting, with the government reporting winning percentages in the high 90s. Two little-known figures, vetted by government and security bodies, are nominally opposing Mr. Assad, but both have praised him.
While Mr. Assad's international opponents have branded the election a farce, election observers were on hand Tuesday from North Korea — a country even less tolerant of dissent than Syria — as well as from Mr. Assad's allies Iran and Russia, along with Brazil, Zimbabwe and others.
Despite the foregone conclusion, the vote is a milestone in a conflict that began with protests demanding political freedoms and has killed an estimated 160,000 Syrians.
Mr. Assad's domestic and international opponents long ridiculed his confidence that he would survive in power until the end of his current term in July. His supporters see his longevity as proof that he enjoys the support of most Syrians. His opponents attribute it to strong support from Russia and China, and the lack of effective international backing for the armed opposition.
Either way, the vote is an indication that Mr. Assad is unlikely to leave soon, and his re-election is expected to signal a new phase in the conflict. After he reclaims the mantle of governance, it remains to be seen if he can or will fulfill his pledges to end the war and rebuild the shattered country.
Mr. Assad has said international criticism of the ballot is irrelevant, and he appears to view the election process as a way to reinforce the sense that he is in control and that his victory in the war is inevitable. Far fewer foreign media outlets than usual have been granted visas to work inside Syria during the elections.
Posters of Mr. Assad have blanketed buildings and walls around Damascus, with a few showing his opponents, Hassan al-Nuri, a former government minister who made a fortune selling shoe brushes, and Maher al-Hajjar, a member of the tolerated Communist party who has posted pictures of himself next to Mr. Assad's portrait.
In Damascus and other cities, residents said they planned to stay home except for essential travel to work, to avoid potential violence. On Monday, people had flocked to stores to stock up and food and water to avoid unnecessary errands on election day. Some Damascus residents decamped to home villages on the more-secure coast for the election week.
An estimated six million Syrians are displaced inside the country, but the authorities say they can vote anywhere, not necessarily in their home districts. But those in insurgent areas will have no secure way to vote.
Nearly three million refugees have fled the country. Elections were held last week for them and other Syrians living abroad, although those who left through unofficial border crossings were excluded. Turnout was higher than expected, especially in Lebanon, which hosts more than 1 million officially registered refugees.
Every voter interviewed in Lebanon last week said they were voting for Mr. Assad. Some enthusiastically declared their love for him, even marking their ballots with blood. Others said they chose him because he was the most likely to win and end the conflict, or because they viewed him as a lesser evil compared to extremist factions within the insurgency. Still others said they believed rumors that if they did not vote they would not be allowed to return home.
Nonetheless, other Syrians in Lebanon said they would boycott the election. New voting was to be held Tuesday at the Lebanese-Syrian border. Voters would need to cross the Lebanese border and vote in no-man's land — an obstacle for some who fear being barred from re-entering Lebanon, or losing refugee benefits under a new Lebanese policy stripping Syrians of refugee status if they return to their country. On Tuesday morning, dozens of Syrians could be seen walking toward the border at Masnaa crossing in the Bekaa Valley.
Syria's interior minister, Major General Mohammad al-Shaar, called on all Syrians to vote "to express the Syrian people's aspiration for life and stability and to confront terrorism and sabotage." On Syrian television on Monday, he denied rumors that identification cards and passports would be stamped to create a record that they had voted. State media also said that voting would be in private booths.
At Lebanon's single polling station last week at the Syrian embassy, there were no private booths, and election workers helped many people complete their ballots.
Antigovernment activists have produced videos spoofing Mr. Assad's campaign, juxtaposing his slogan, "Together," with photographs of children and others killed in government bombardments. Many members of the opposition were excluded from running in the election under rules barring those who have recently lived outside the country or hold foreign passports.
In the United States and elsewhere, opposition activists planned to spend the day reading from a list of names of people killed in the conflict.
NY Times