Kuwait's Emir makes rare visit to Iran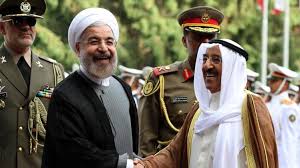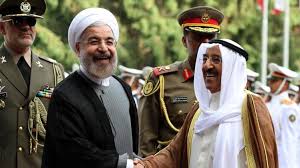 Kuwait's emir began a visit to Iran on Sunday, the first by a ruler of the U.S.-allied Gulf Arab state since the 1979 Islamic revolution, underscoring improving ties between Tehran and its Arab neighbors.
Regional television stations showed Iranian President Hassan Rouhani escorting Sheikh Sabah al-Ahmed al-Sabah to review an Iranian honor guard upon the emir's arrival in Tehran.
Rouhani, elected last year, has been trying to lead Shi'ite Muslim Iran out of years of isolation and his decision to engage with world powers in talks about Tehran's nuclear program has been welcomed by some in the Sunni Muslim states on the other side of the Gulf.
Kuwait, home to a sizeable Shi'ite Muslim minority, is seen by some as a potential bridge between Iran and the Gulf Arab states, including the main power Saudi Arabia, with which relations remain strained, not least because of opposing stances over Syria's civil war.
Iranian Foreign Minister Javad Zarif said on Sunday he could not take up an invitation to visit Saudi Arabia to attend a conference to attend a meeting of the Organisation of Islamic Cooperation later this month because the proposed dates clashed with planned nuclear negotiations with world powers.
Sheikh Sabah, a former Kuwaiti foreign minister, is described by analysts as one of the region's most active diplomats, often acting as a mediator.
The emir's visit comes at "a critical time and amid complicated changes in the region," said Ali Anayati, Iran's ambassador to Kuwait, Kuwaiti news agency KUNA reported. He said the visit would start a "new chapter of bilateral cooperation".
Both leaders want to "create a safe and stable regional system based on non-interference in other countries' internal affairs," he said.
The emir heads a delegation which includes the foreign minister and oil minister, Iranian news agency IRNA said.
The visit follows Foreign Minister Zarif's tour of the Middle East in December after Tehran signed an interim nuclear deal with world powers. Kuwait said it hoped the deal would help regional stability and security.
Saudi Arabia, which backs rebels fighting Syrian President Bashar al-Assad, a close ally of Iran, sees the Shi'ite power as one of its biggest threats.
Gulf Arab states, like Western powers, suspect Iran has been using its nuclear power program as a front to develop weapons capability.
Bahrain and Saudi Arabia have also accused Iran of stirring up their Shi'ite communities to revolt. Iran says its nuclear program is peaceful and denies interference in those countries' affairs.
Iran must change its attitude
Iran must prove through actions that it is willing to make key policy changes to mend fences with Gulf Arabs, analysts said ahead of Kuwait's emir visit.
"It's a significant visit and a very important opportunity to show if Iran really wants to develop its ties with the Gulf and open a new page with them," said Riad Kahwaji, head of the Dubai-based Institute for Near East and Gulf Military Analysis.
"So far, Tehran's policies haven't changed … it has bolstered its military involvement in Syria and dispatched troops to support the regime against the people. It has also increased its interference in Iraq, Lebanon and Yemen."
"Gulf states, particularly Saudi Arabia, won't accept Iran's control of any Arab country for improving ties," said Kahwaji.
Reuters/ Agencies