Syria death toll from barrel bombs nears 2000 this year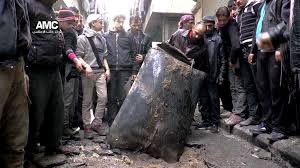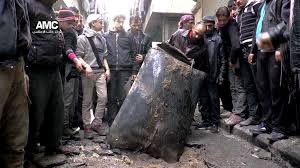 Barrel bombs dropped by Syrian government forces on rebel-held parts of the northern city of Aleppo have killed nearly 2,000 people so far this year, an activist group has said.
Britain-based Syrian Observatory for Human Rights, one of the main groups counting the dead in the three-year-long conflict, said on Friday that there were 1,963 deaths in 2014 from barrel bombs in Aleppo, including 283 women and 567 people under the age of 18.
The crude bombs are shrapnel-packed explosive devices that Syrian forces have been rolling out of helicopters over rebel-held neighbourhoods. Hundreds of kilograms of explosives and scraps of metal are packed into the containers, or barrels, with the intention to cause massive damage on impact, the Associated Press news agency reported.
According to the Observatory, an average of 14 people die every day in Aleppo because of barrel bombs.
Al Jazeera's Zeina Khodr, reporting from Bab al-Hawa at the Turkish-Syrian border, said that the government had stepped up indiscriminate air attacks in the northern city of Idlib as well.
"The government's military strategy could be to push rebels back or to depopulate areas. More importantly, to drive a wedge between the rebels and the people, telling them if they support the rebels, this is the punishment," she said.
Khodr said that preventing the rebels from being able to govern on the ground could also be another government objective.
A UN Security Council resolution adopted in February demanded, among other things, a halt to all attacks on civilians in Syria and indiscriminate shelling and aerial bombardment, including the use of barrel bombs in populated areas.
In March, the New York-based Human Rights Watch said it used satellite imagery to identify at least 340 places in rebel-controlled areas of Aleppo that were damaged between early November and February 20. The majority of the sites bore signatures of damage consistent with barrel bombs, it said.
The grim figure is the latest addition to the deadly tally from Syria's civil war, which has killed more than 162,000 people, according to activists.
Aleppo, Syria's largest city and once its commercial centre, has been carved into rebel- and government-controlled areas since opposition fighters launched an offensive there in mid-2012.
Al Jazeera