Geagea calls for a president that does not stab the state in the back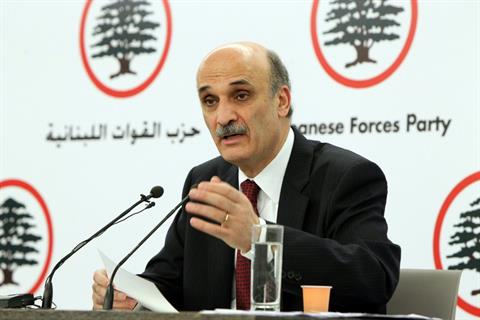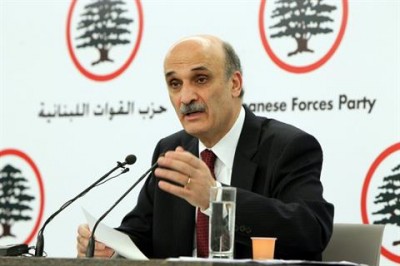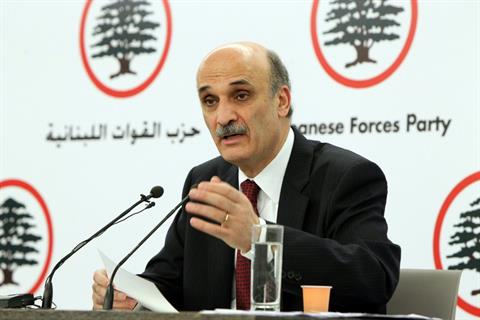 Lebanese Forces leader Samir Geagea challenged on Wednesday Free Patriotic Movement MP Michel Aoun to officially announce his candidacy and responded to Hezbollah leader's speech by calling for a president who "does not stab the state in the back" and denied claims that March 14 had sought to extend former President Michel Suleiman's term.
Hezbollah Secretary General Sayyed Hassan Nasrallah called in his speech for a president that does not stab the Resistance in the back.
"We want a president who does not conspire against the resistance and stabs it in the back. This is not a difficult condition." Nasrallah said in a speech last Sunday.
He also accused March 14 of conspiring to extend Suleiman's term.
"March 14′s real goal was the extension of the current president's term." Nasrallah said.
"Sayyed Hassan Nasrallah does not dictate what we want in the presidential elections , he should discuss what he wants," Geagea said in a press conference on Wednesday
" Term extension needs two thirds approval so how would we be aiming for it? His team should have taken part in the electoral sessions. His candidate could have won."
"Extension of Suleiman's term was proposed to last for a period of a year or two years to avoid vacuum at the Baabda palace , and it was announced by Maronite Patriarch Beshara Boutros al-Rai, despite the fact that he is opposed to term extension on principle."
Responding to to claims by Aoun that he is an unconstitutional candidate, Geagea said
"If I am unacceptable to half of the Christians then he is unacceptable to the other half, and if I really am an unconstitutional candidate, Aoun should be happy because he will definitely be elected president."
He added "If he can secure 65 votes then March 8 should take part in the session on June 9."
There are 128 members in the parliament and the winner has to secure a minimum of 65 votes.
He challenged Aoun to officially announce his presidential candidacy and told him not to count on Hariri's support after what he and Hezbollah did in 2011 to topple his cabinet.
In another response to Nasrallah, the LF leader denied that he is running as a "provocative" presidential candidate.
"I am a Christian Maronite Lebanese and I have the political and legal right to run for president; my program is clear and it is true that my opinions do not match the views of Hezbollah but this does not mean I am running for the election to provoke or challenge anyone," he said.
Geagea also slammed the Syrian presidential vote for expats being held Wednesday in Lebanon as a "farce" and said the country lacked the required conditions for an election.
"The Syrian election does not have the needed conditions and requirements to be considered as an election, and the majority of the Arab and international community do not recognize this election," he said.
"The presence of a million Syrian refugees in Lebanon is the biggest evidence that the election lacks the right conditions," he said. "What is happening today is not an election, but a demonstration in support for the Syrian regime."
According to media reports Hezbollah provided financial and security cover for Syrians wishing to vote in their country's elections at the Syrian embassy in the Beirut suburb of Yarzeh on Wednesday.
The reports added that voters residing in South Lebanon, and the central and eastern Beqaa Valley were provided by Hezbollah with transport to Yarzeh in order to give the impression of a high turnout.
The reports added that more than 55% of the Syrians who made their way to Yarzeh were too young to vote.