Chinese boat attacks, sinks Vietnamese fishing vessel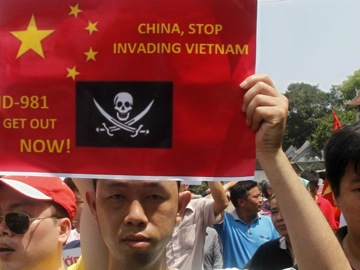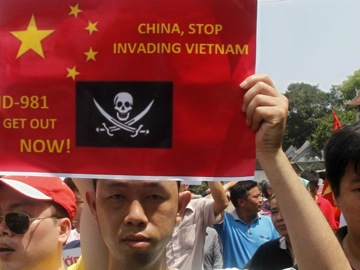 A Chinese vessel attacked and sank a Vietnamese fishing boat, the Vietnam government said, raising tensions over a territorial dispute that saw clashes between the countries' coast guard ships earlier this month.
"It sank," ministry spokesman Le Hai Binh said of the Vietnamese vessel. "It was rammed by a Chinese boat."
The 10 fishermen on board DNa 90152 were rescued by other Vietnamese boats after the incident about 4:00 p.m. yesterday around 17 nautical miles (19.5 miles) from a Chinese oil rig located near the contested Paracel Islands, the government said in a statement on its website. Forty Chinese fishing vessels encircled a group of Vietnamese boats in Vietnam's exclusive economic zone, it said.
China's placement of the rig sparked violent protests in Vietnam this month and confrontations between coast guard vessels, including the use of water cannons and accusations of boats being rammed. China says the rig is in its territory and that it has long drilled in the area.
The tensions come as China's President Xi Jinping expands the country's naval reach to back its assertions in the South China Sea that are based on the "nine-dash line" map, first published in 1947. That map extends hundreds of miles south from China's Hainan Island to equatorial waters off the coast of Borneo. China and Vietnam both claim the Paracels, and Association of Southeast Asian members Brunei, Malaysia and the Philippines have claims to other areas of the South China Sea.
2013 Incident
China's actions violate international law and threaten peace, security and freedom of navigation, Vietnamese Prime Minister Nguyen Tan Dung said on May 22 in Manila. Tensions in the South China Sea risk disrupting the flow of goods, Dung said, with the resource-rich waters taking in some of the world's busiest shipping lanes.
"This is the first time China brazenly brings and installs its drilling rig deep into the continental shelf and exclusive economic zone of an Asean country," Dung said separately in a speech in Myanmar on May 11. "This extremely dangerous action has been and is directly threatening peace, stability and maritime security and safety in the East Sea," he said, using Vietnam's name for the waters.
The first phase of the drilling, which began May 2 off Zhongjian Island in the Xisha Islands, as the Paracels are known in Chinese, has been completed, China Oilfield Services Ltd., which is conducting the operation, said in a statement today. Exploration has moved to another place and is expected to end in mid-August, according to the statement.
Code of Conduct
In March 2013, Vietnam's government lodged a protest after it said a Chinese ship fired on one of its fishing vessels near the Paracel Islands and caused a cabin fire on that boat.
Asean leaders meeting in Myanmar on May 11 issued a statement expressing concern about South China Sea tensions, without referencing China directly. Asean maintains a policy of neutrality on the disputes.
Addressing the actual territorial claims will take a long time, Singapore's Foreign Affairs Minister K. Shanmugam said yesterday in an interview.
"What's achievable is to try and have a code of conduct that tries to work out how the countries, countries' ships and so on interact with each other, what can be done, what cannot be done, what kind of conduct is acceptable, what kind of conduct is unacceptable," he said.
Asean has called for progress on the code with China that would seek to preserve freedom of navigation in the South China Sea. Talks have made little headway since China agreed in July to start discussions, with China introducing fishing rules in January requiring foreign vessels to seek permission before entering waters off its southern coast.
Japan Aid
Japanese Prime Minister Shinzo Abe said he hoped to boost maritime aid to Vietnam. Beijing's "unilateral drilling activities" have raised tensions in the area, Abe told the Wall Street Journal in an interview May 23.
Japan is separately embroiled in a territorial dispute with China over islands in the East China Sea. Its Defense Ministry said May 24 that Chinese SU-27 fighter jets flew unusually close to two of its military planes that day.
Business Week