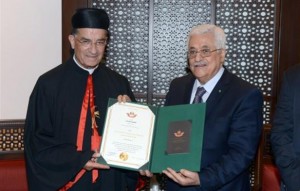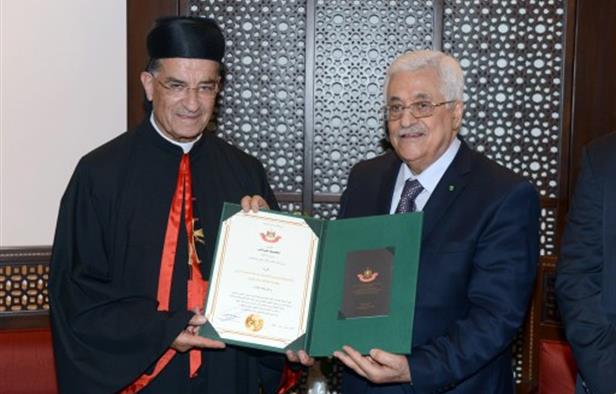 Palestinian President Mahmoud Abbas honored Maronite Patriarch Bechara Boutros al-Rai with with the highest Palestinian order called "the Star of Jerusalem" during a meeting at the presidential palace in Bethlehem in the presence of a number of Palestinian officials, including Prime Minister Rami Hamadallah and several ambassadors, National News Agency reported
"Abbas honored the patriarch with the Al-Quds Star medal in appreciation of his [Arab] nationalist position, his religious veneration, and his contribution on the regional and international levels… to achieve the victory of the Palestinian people and [their] fair cause," a statement issued by the Palestinian embassy in Lebanon read.
According to the statement, the award was aimed at "appreciating Rai's courage [to] visit Jerusalem and break off its siege, and support its [Palestinian] residents' steadfastness."
In turn, the patriarch voiced his gratitude for the medal, and said that it represented "a great honor to the church and the Lebanese people."
"We came here to pray with Pope Francis for peace… because peace in the Middle East starts with the Palestinian cause," Rai said, according to the statement.
"We are with you and we support and defend your cause… We support your call for [establishing] a Palestinian state, with Eastern Jerusalem being its capital."
The visit to Jerusalem by the patriarch was branded earlier this month as a "historic sin," by a Lebanese newspaper closely associated with Hezbollah.
The daily As-Safir ran a critical piece headlined "Historic sin: Rai goes to Israel."
Calling it a "dangerous precedent," the daily argued that the trip would "not serve the interests of Lebanon and the Lebanese, nor those of Palestine and the Palestinians nor Christians and Christianity."
Al-Akhbar, another newspaper closely linked to Hezbollah, said a group of Lebanese politicians will try to dissuade Rai "from visiting Jerusalem as long as it is under Israeli occupation, which would signify a normalization with the occupier."
A Hezbollah delegation visited Rai at his residence in Bkirki a week before he was scheduled to leave to dissuade him from traveling to Jerusalem .
"We hope the Patriarch would take into consideration our stance on his visit to Jerusalem," Hezbollah's politburo chief Sayyed Ibrahim Amin al-Sayyed, who headed the delegation, told reporters at Bkirki.
Rai has been stressing that he was going to the Holy Land "to say Jerusalem is Arab, and I have authority over it."
"Jerusalem is our city, our city as Christians before anyone else."
"The Christians have been there for 2,000 years, while Israel was created in 1948." he was quoted as saying,
This error message is only visible to WordPress admins
Error: No connected account.
Please go to the Instagram Feed settings page to connect an account.