Hezbollah chief appears on TV to talk about resistance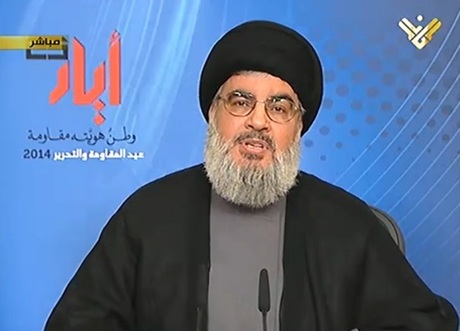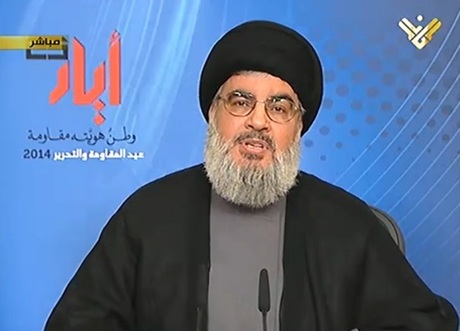 Hezbollah Secretary General Hassan Nasrallah is making another TV appearance via video link to deliver a speech on the occasion of the Resistance and Liberation day.
At 6:45 a.m.on May 25, 2000 the last Israeli tank withdrew out of the Lebanese territory, and Israeli Army Maj. Kobi Dostakam locked the border gate, ending Israel's 18-year occupation of Lebanon. It had been one of Israeli Prime Minister Ehud Barak's promises: no more occupation.
He started by saying:
"We can describe the May 25, 2000 victory as the triumph that paved the way for the era of victories."
He admitted that the victory cannot be attributed to Hezbollah only
"The victory cannot be attributed to a single party, faction or region, or even a country, as it belong to the entire nation, which is engaged in a war with the Zionist scheme. We have always strived to give this Day this broad dimension."
He then went on to talk about Israeli defeat by Hezbollah in 2006 and by Hamas in Gaza in 2005, 2008 and 2012.
He then went on to talk about the resistance formula in Lebanon which was recently omitted from the ministerial statement :
"We stress our commitment to the golden army-people-resistance formula, REGARDLESS whether or not it was INCLUDED in the cabinet's policy statement or EXCLUDED."
He insisted that Hezbollah will hold onto its arms:
"The resistance, in spite of all regional events, will keep its arms to confront the enemy. The resistance is working hard on improving this power of confrontation and this worries the enemy." He said
He then shifter to the situation in Syria
"On May 25, 2013, I addressed the Syrian situation and the dangers of this reality in Syria, Lebanon, Palestine, Iraq, etc. and I said that we will not stand by watching. Media reports confirmed all my visions and predictions."
He then tried to justify Hezbollah role in Syria stressing on Syria's past role as a resistance base and ignoring allegations that he is in Syria on orders by Iran to save the Alwaite regime because of its links to the Shiites.
"We defend Syria because Syria was and still is at the heart of Arabism and it stood against Israel and stood by Egypt. It is the only country that protected and supported the Lebanese and Palestinian resistances, and it remains the only country to refuse to recognize Israel."
He went on to stress that Hezbollah can operate on more than one from.
"Despite everything happening in Syria, I stress to you that the resistance has maintained its force of deterrence and this is what the enemy acknowledges. It is working night and day to develop this force of deterrence and this is what is making the enemy anxious."
He wants more arms:
"In this issue of possessing a force of deterrence, one cannot say we have enough assets at a certain point, as we're speaking of Israel and one of the strongest armies in the world. Therefore we must improve our deterrence, regardless of those who are raising the issue of the resistance's arms."
Addressing the controversial elections in Syria he said:
"The real challenge is allowing the Syrians to vote and to express their opinions, especially in the areas controlled by the armed groups. ISIS, Al-Qaeda and Al-Nusra Front are not allowing people to participate in the elections."
'All of those who criticized us for participating in the Syrian war, will thank us some day.' He added
He then went on to address the situation in Lebanon:
"We must address the delicate issue of the Lebanese presidential elections calmly." he said adding: "The most important thing is to make efforts to elect a new president as soon as possible who can preserve Lebanon's stability. ."
He then went on to discuss about the talks between his ally General Michel Aoun and Future Movement
"The Free Patriotic Movement is seriously discussing this issue with Future Movement leader , and what happened is that a candidacy was announced only to challenge a serious candidacy that was under discussion. A possible reference to K\Lebanese Forces leader Samir Geagea's candidacy .
He then went on to accuse March 14 of wanting to extend Suleiman's term:
"March 14's real goal was the extension of the current president's term." He said
He then tried to justify why Hezbollah and allies are disrupting the election of a new president:
"We don't mind if you say that we are disrupting the elections. This issue is a national and historical responsibility, and we don't have a problem if you accuse us of being disruptive."
He added:
"We want a president who can preserve stability, but we are not looking for a president who protects the resistance. The resistance is the one who protects the nation."
"We want a president who does not conspire against the resistance and stabs it in the back. This is not a difficult condition."

No consensus on Resistance in lebanon
Hezbollah, which was credited with the liberation of Lebanese territories from Israel in 2000 was a very popular organization in Lebanon and throughout the Arab world. Back then pictures of Nasrallah were posted everywhere here in Lebanon and the Arab and Muslim countries.
But according to analysts ever since its 2006 war with Israel, Hezbollah has become a huge liability for Lebanon.
Despite the destruction of Lebanon's infrastructure and the great loss of lives during that war Hezbollah claimed victory and used its arms to try and bring down the democratically elected government of former PM Fouad Siniora, who helped in ending that war which ended up costing Lebanon in excess of $15 billion.
In 2008 Hezbollah pointed its guns against the Lebanese people when it occupied more than half of Beirut and tried but failed with a great loss of lives to occupy Mt Lebanon .
In 2011 Hezbollah brought down the democratically elected government of former PM Saad Hariri and reportedly used its arms to force progressive socialist party leader MP Walid Jumblatt and his parliamentary bloc to vote for its candidate Nagib Mikati as the new premier .
Hezbollah which was established by the Iranian Revolutionary Guards in 1982 was also accused of being behind the attack against the Baabda presidential palace last August following president Michel Suleiman's speech on Army day in which he criticized Hezbollah's role in Syrian civil war .
"The army's mission would be impossible if a party or more from Lebanese people get involved in wars outside Lebanon ", Suleiman stressed in another reference to the tens of thousands of Hezbollah fighters who have been trying to prevent the collapse of Syrian regime .
Tens of thousands of Hezbollah fighters are fighting alongside the forces loyal to president Bashar Assad against the Syrian rebels who are seeking to overthrow the 40 year old dictatorship despite the Baabda accord that calls for distancing Lebanon from regional and international conflicts.
According to a lebanese analyst: "The party is willing to risk the foundations on which the entire Lebanese political system was built in order to prevent the collapse of the Syrian regime and impede the work of the Special Tribunal for Lebanon that is probing the assassination of former premier Rafik Hariri."
Five members of Hezbollah have been indicted by the Special Tribunal for Lebanon (STL) in the assassination of former Lebanese prime minister Hariri , but Nasrallah refused to hand them over to the international court.
Yesterday was Suleiman's last day in office and Hezbollah along with its allies in the March 8 alliance have been boycotting the parliament in an effort to prevent Lebanon from having another president . Hezbollah is insisting that any president should be a friend of the resistance but so far the party did not name its candidate
More to follow